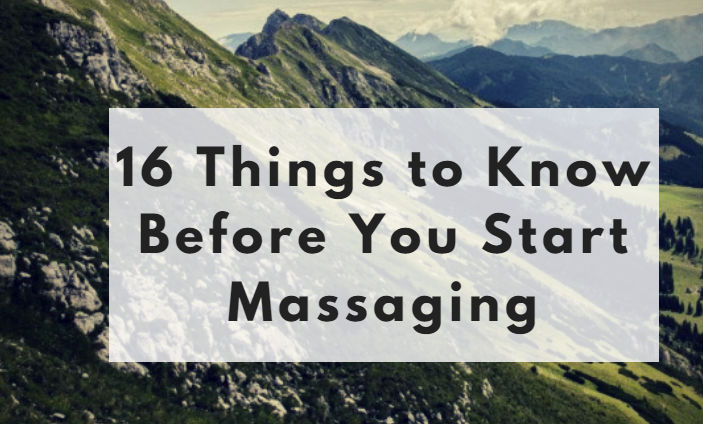 16 Things to Know Before You Start Massaging
---
If you want to start a business, perhaps from home and fancy giving a massage for money, there are a few things you need to be careful of.
1. Insurance
---
In the UK you must have public Liability Insurance. This is to protect your client in case:
You inadvertently hurt them

They have an accident, e.g. Trip over your carpet and break a wrist etc. There are specialist companies who can provide you with public liability insurance. It is generally not very expensive and can be set up quite quickly.

2. Qualifications
---
You will need a qualification. The public liability company will ask you what qualification you have before they will insure you.
Courses are available from many colleges and universities for general sports qualifications or specific types of massage, as one-off courses.
3.Types of Massage
---
There are many types of massage.
Sports or muscle massage. Can be deep tissue massage.
Swedish massage – a gentle form of almost stroking. Very Relaxing.

Indian Head Massage.

Shiatsu or pressure point massage –good for relieving pain.

Acupressure massage – using acupuncture points on the body not with needles.

Acupuncture. Using fine needles at specific meridian points on the body.

Reiki. A somewhat spiritual form of massage.

Reflexology. Treating the body through the foot meridians.

Chinese massage.
These are just a few of the massage forms and some require a lot of training and studying. E.g. Acupuncture and Chinese Massage. You will need to look into the different forms and decide which one(s) suit you and your circumstances. There are other forms, like hot stone massage, that may require specialist equipment.
4.Space
---
What space do you have available? Where will you carry out your massage? Some Health centres may be willing to sub-let a massage room to you if you do not have room at home.

5. Massage Bed
---
You will need a specialist massage bed or chair. People need to be able to breathe so a massage bed has a hole for them to face into.
6. Hygiene
---
It will be necessary to have long rolls of paper or a lot of clean sheets to change for each client. Who wants to relax in a massage smelling the sweat of the previous client? Your surfaces and floors will need to be spotless.
7. Background Music
---
Many people find some soft mood music played quietly in the background helps them to relax.
Relaxed people are easier to massage.
8. Perfumed Oil
---
There are a lot of different oils specifically for massage. Essential Oils help the process and can be varied according to what your client wants as an outcome of the massage:
Calming.

Invigorating.

Healing.

Inspiring.

Etc
Be sure to check with your client regarding allergies etc.
9. Before You Start
---
You will need a check sheet to establish your clients health background, if they are pregnant, have allergies etc.
10. Own Personal Hygiene
---
Ensure you have brushed your teeth and yourself. You will impress your client if you look and smell clean and pleasant.
11. Jewellery
---
Remove your jewellery. You do not want to scratch or mark your client's skin. Ask your client to remove rings, necklaces, earrings etc., to enable you to get access to their bodies and prevent damage to the jewellery. (Some Oils may affect jewellery, especially cheap stuff.)
12. Feedback
---
Remember to get regular feedback from your client and make a note of it after they have left. Ask if they are comfortable and are happy with the massage process.

13. Checklists
---
Have a checklist discreetly to hand for:
the treatment. It will help you to remember what to do, especially in the beginning.
14. Charges
---
What can I charge? Look up local and national massage therapists on th internet and find a medium price for similar forms of massage. This need to part of your business plan.
15. Business plan
---
Get some help if you need it. Banks will often have guide notes as to how to build a business plan. It is essential for you to see exactly what things cost and work out your cash flow. This will help you to price your service and see if it is a viable business for you.
16. Your Health and Strength
---
The final important thing to consider is your own health and strength. Physical massage takes it out of your joints and especially your thumbs. After a long session, you may feel the need for a massage yourself.
Whatever you decide, enjoy yourself and good luck. A little good luck and a lot of hard work……
If you would like to start a business at home using your computer and sit in a comfy chair drinking green tea, then maybe this is for you here: (It is free to try, genuinely free, no cards etc.)

Read More: How to Make a Free Website- Free Domain, Free Hosting and Free Keyword Tool