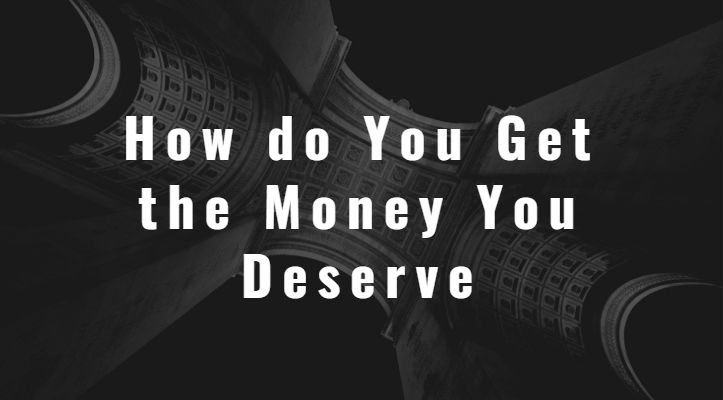 How do You Get the Money You Deserve
---
How do you get the money you deserve. Are you worth more than you are paid? Do you get the money you should get?
How do You Calculate What You are Worth?
---
There are many theories on this. This is my basic, rule of thumb. To understand the principles I use, we need to look at education first.

Education
---
In the UK and most western countries, education is free until you are 18. After that you will have to start paying. There are grants, bursaries etc etc but it is no longer free for most people.
The time you spend educating yourself is therefore a cost in your lifetime. If you are studying, you are not earning money. That study time and the costs involved must be added to your value.
Remember also that you can keep studying and keep learning all through your life. This increases your value and what you are worth becomes more.
Life has become faster paced and changes occur more rapidly. We all need to keep up, especially with modern technology.
We humans were born curious so learning is a natural thing for us to do.
If you have a problem learning new things, it is probably because someone once told you that you were "useless," or "will never come to anything." Ignore them. Everyone can enjoy picking up new skills if they want to. There are many things to learn and many ways of learning, they do not have to be from books or at universities.
There are internet courses both paid for and free. Have a look at the OU and search for "Free Courses."
Of course, after school, education and acquiring new skills can cost money. Have a look at this:
Basic Calculation to Find the Cost of Getting an Education after School

 

Minimum wage

£7.50

 

 

 

 

 

Hours worked per year

1976

Assuming a 52 week year with 38 working hours/week average

Course Studied

 

Degree
IT Course
Summary

years

 

3

1

 

 

 

Months

 

24

11

 

 

 

Days

 

480

220

 

 

 

Hours Calc'd

 

3840

1760

 

 

 

at minimum wage

 

£28,800

£13,200

A.
£42,000

This gives you a ball-park figure for loss of earnings while studying.

Cost of course

 

 

 

 

 

 

Pr year

 

 

 

 

 

 

Pr Semester (term)

 

£3,000.00

£2,000.00

 

 

 

No of semesters

 

12

3

 

 

 

Total Cost over whole course

 

£36,000

£6,000

B.
£42,000

This is a rough idea of the cost of courses.

 

 

 

 

 

 

They can be cheaper and also more expensive.

Lost wages

 

£44,460.00

£14,820.00

 

 

What you could have earned if working instead of studying

Income from part-time jobs

 

£8,000.00

£3,000.00

 

 

What you actually earned working holidays or evenings/weekends.

Total loss in wages

 

£36,460

£11,820

C.
£48,280

Your loss in earnings for the study periods.

 

 

 

 

 

 

 

There are several assumptions here.

 

 

You can see how A. and C. are very similar

Assume a minimum UK wage of £7.50 / hour.

 

Using the lower figure: A + B =

 

Assuming you would only earn a minimum wage.

 

 

£84,000

 

Assuming average costs of courses. These can vary.

 

This is the minimum it has cost you to get a qualification.

Assuming a working week of 38 hours over 52 weeks.

Assuming 20 days/month attendance at full-time courses.
If you are to get this money back over 5 years you need your minimum salary plus the costs of your qualification.
I will save you the calculation; it is an extra £8.50 per hour for every hour for 5 years.
Remember this is on top of your normal salary.
Add a minimum wage of £7.50 an hour and you are up to £16 per hour for the next 5 years, before you begin to reap the benefits.
| | |
| --- | --- |
| Recoup over 5 years | £8.50 |
| wage | £7.50 |
| Total/hr | £16.00 |
| Per year | £31,620 |
Reality is that this is unlikely to be a starting salary, so it may take you some time to earn what you are worth.
Any experience or qualifications, which are relevant to what you do, are an increase in value of your time.

How Do I Put this into Practice
---
First of all, your own idea of what you are worth needs to increase and match these basic criteria.
Many people earn below their value because they value themselves too low.

Set up a spreadsheet with your study time evaluated, loss of earnings and study costs.

Write out a list of what you can do that is relevant to your job.

Assess what you think you are worth and add 10% because you are too modest.

Now look around at similar jobs to yours, or even jobs you would like to do, and see what they earn in salary.
If you are unhappy with your earnings, perhaps you need to find another job which better suits your skills. You might also consider setting up a business.
Be Your Own Boss
---
Here you can decide what you want to earn yourself and design your business to produce that money for you.
Starting your own business is not for the faint-hearted although there are so many opportunities through the internet that there may well be something that suits you.
The number of people becoming self-employed in the UK and US is growing year by year.
Whatever you do, you are probably worth more than you think however we have to be realistic these days and an employer will pay the least he can to get the skills he wants. This does not stop you creating a good CV and seeing what else is out there.
Have a folder with your CV and a list of your skills and experience in it. Congratulate yourself with what you know and decide what else you want to learn to improve your situation.
Look at it from time to time to remind yourself of what you are worth. How do you get the money you deserve. It is more than you think.