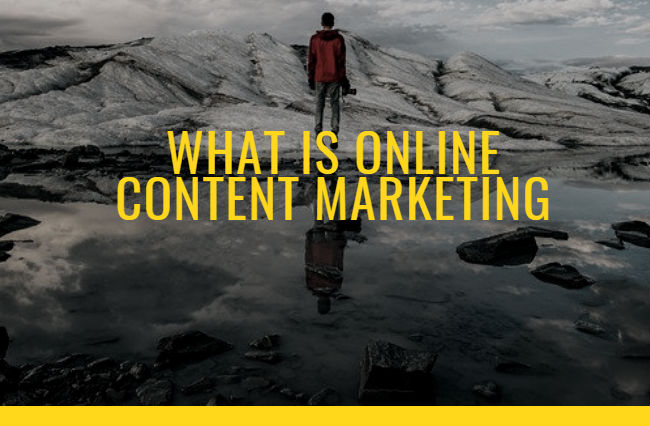 What Is Online Content Marketing
---
What Is Content Marketing?
---
Content marketing is an internet marketing strategy. You need techniques for distributing valuable, consistent and relevant content to attract, serve, engage, convert, and retain customers. If you are an internet blogger, internet marketer or website business owner then "content marketing" is just the thing for you. Content marketing goals are to optimize product value and also to provide help for customers, through good service, in order to retain customers online. Content marketing is a business and customer service relationship. It involves building a great customer experience.
Content Marketing Strategies
---
If you want to grow your business then good content marketing is the key to success. Creating good content marketing strategies, planning and sharing the content to attract and convert prospects into customers. Customers become repeat buyers when they trust your business and services. Your customers will then always be happy. You will earn revenue. To create good engaging content you need to have plan.
Content Marketing – Blog Post
---
Blog post content is used to promote the product's information, to help, guide and advise the customers. Content posts must be kept up to date and new ones added regularly. Part of a content marketing strategy is using keywords with the Google SEO. Success with content marketing requires an Internet marketing plan, strategies and knowledge of how to engage people. Customers are KING, contents are KING too. Because they directly engage. Feedback (customers) is vital to guide and help you with customer's requirements. Great content will increase your chances of lead conversion, i.e. turning your prospects into buyers.
Content Marketing – Images
---
Good images are attractive to your customers and break up the text. Remember a picture tells a thousand stories. Great images will drive conversions. Images are part of the content marketing business online. People are often attracted to good pictures and then read the text.
Content Marketing – eBooks/Newsletters
---
Another important part of marketing is the eBook cover image. Offering eBooks to customers will help to keep their costs down or even offering free eBooks can increase your credibility and customer trust levels. Customers will get the information or knowledge from the writers and the writers get email addresses of people interested in their topic. This is a win-win situation. This applies to eBooks and newsletters.
Content Marketing – Social Media
---
Social media is a major part of people's lives. Now people contact friends, share news, information, business, work, family and entertainment, etc. Each social network attracts different types of people. People look for different things. So business owners can create high quality content marketing in the social media. Sharing their ideas will attract prospects. The most popular social media are:
Content Marketing – Email
---
Content marketing through emails to the prospects is another way to connect with people and spread your message. Remember customer have different needs. Content marketing through email is still very popular today. Customers like to receive information, promotions and discount vouchers through emails without disturbing them too much. It is necessary to have good "opt-out" clauses so that people can remove themselves from the email list. You want to be contacting people who are interested in your products, services or information. The frequency and style of the emails is important to avoid spamming. This is the direct way to engage customers. Professional quality content or articles get high conversions.

Content Marketing – Video
---
High quality video is also one of the content marketing strategies. Recently, an increasing number of people have watched videos. When people are tired, after a hard day's work, they prefer to watch video instead of reading.
Content Marketing – Brand
---
The website or blog owner needs to create a website logo, images, colour, sounds, videos, social media, customer service and high quality content etc. These are some of the details which will affect your brand. Your brand represents your company, quality and service. Your brand is your image and the first impression a customer gets of you / your business. Our physical appearance affects how people respond to us in the same way as a Brand image affects peoples opinion of your company. Turn followers in to buyers.
Content Marketing – Podcasts
---
Podcasts give business owners or bloggers another opportunity to expand their content marketing strategies and it is not a bad idea for audiences. Podcasts provide an alternative media channel for those of your audience who prefer listening to reading. People can listen to podcasts using their headphones and they can go to exercise at the same time. It is very convenient for them, and is another way of passing information on.
Content Marketing – Story Telling
---
Telling a successful story is another way to appeal to your audience. You can write the story, make a video to tell the story, or produce a podcast of your story. For someone who wants to have a successful online business, telling a story would be an easier way to persuade others to buy their products. It is a very good and friendly way to engage your audience.
I went on a very advanced training course years ago. The Tutors were 3 famous business trainers, who had written books and been on TV many times. One of the students was a short Muslim lady who taught Arab dance. She was in my group and a wonderful, bright and talented person. She had one problem. Now, since we were learning how to teach trainers how to train, she had to stand in front of a group of people and give 5 or 10 minute training sessions.
The course started on Monday morning and by Wednesday morning she was ready to quit and go home. She could not cope anymore. In our group of ten people, we unanimously encouraged her to take one day at a time and find the courage to do the training exercises.
She reluctantly agreed and we promised to give her all the encouragement and support we could. On the Thursday, after lunch, Paul McKenna, one of the trainers, announced a slight change in the arrangements. There was a buzz of excitement in the 70 or so audience. There was a swell of rhythmic Arab music and the little dance instructor flowed onto the stage and danced for us. She got a standing ovation. She had found that giving up was not an option but that finding your own way to tell a story can be magical. Even Richard Bandler, Paul McKenna and Michael Breen were on their feet, clapping. Did she stay the 10 days? Yes. Did she overcome her challenge of standing in front of a large group of people and teaching an element she had learned? Yes. Did WE learn anything? Oh Yes!