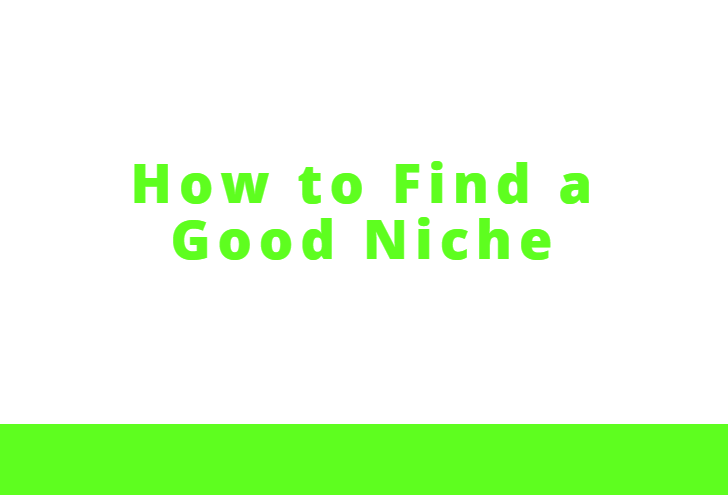 How to Find a Good Niche
---
To find out how to find your niche, suspend everything you have heard and read about it here. Finding your niche is easier than you think and writing content about your niche is easier than you might think.
I wrote this article because, too many times on the net, you will find encouragement to "Find Your Passion" etc. The truth is something quite different.
What is a Niche? [GOOD]
---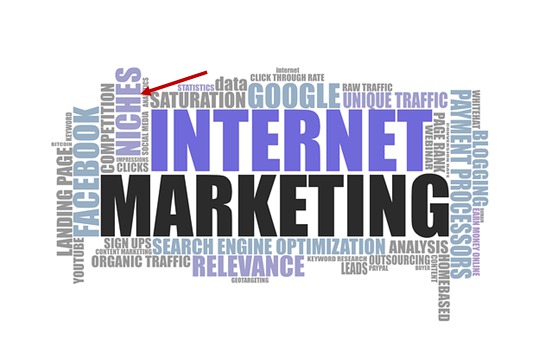 Meaning of Niche: "A comfortable or suitable position in life or employment".
In Internet marketing we need to be more precise:
"A product or service I feel comfortable marketing and will make me a profit."
In fact there are a few more details.
Enough people are interested in the product or service general area.

The competition is not too great that we are competing against major international companies with big budgets for buying.

We have enough interest to research and write good content about the products.
Notice that there is nothing about
---
passion or

detailed knowledge or

specialist knowledge here.
Many new business people struggle with finding a Niche because they do not feel they have a, b, or c above. It is a natural fear, especially if you have never written articles or reviews before.
Honestly, you do not need it. The passion you do need is for building a long-term successful business.
Look at [1-3] above. These are your conditions.
You are more likely to find a good profitable niche in mundane everyday goods that everybody wants and few people can be bothered to write about.
How many ball-point pens and clothes pegs are sold every day?
Where to Find Customers [Niche]
---
Remember the size of the "customers" on the internet. Let's look at some numbers. I have trawled the internet for these statistics and taken the lowest ones I could find. These numbers are generally agreed upon on most websites.
So here are the numbers of internet users in the USA and Europe as of about 31st March 2017:
Internet users: USA..286,000,000       Europe… 260,000,000 (including the U.K.)
Facebook users: USA..200,000,000   Europe…103,000,000 (including the U.K.)
I have put the figures in full because some people are not sure what a million or a billion are.
I have not shown all the other English speaking areas, such as Australia, New Zealand, S. Africa and other African countries.
There is nothing to stop you targeting S. American countries or India.
If I put the figures down for China and India you might find them mind boggling.
The point is this:
THE MARKET IS SO BIG THAT NO MATTER HOW SMALL THE NICHE, THERE ARE CUSTOMERS OUT THERE FOR YOU TO FIND.
Of course, there are more conditions for profitability, and some research is needed.
Can I Do It?
---
Many people question their ability to learn something new and yet some of the things most people do all the time are really complicated.
Driving a motorised vehicle with several gears, a combustion engine and complex steering, ventilation and audio systems, i.e. a car, is complex.
Finding relevant channels on cable TV
---
There is a machine that transmits radio waves at 2,450 thousand cycles per second. These waves agitate molecules of water at the atomic level so that they "vibrate" faster. This vibration raises the temperature of the water molecules and…
Your microwave dinner is cooked
---
Most people can use a microwave. It takes a few practice runs to get the timings right.
I remember the first time I bought one and put 3 baking potatoes in. I could not believe the instruction book timings, they seemed so short, so I added a bit on. MMM
I had to use a metal saw and a hammer to break one of the potato rocks in half to find out if there was anything edible in the middle. BTW there was a tiny bit of soft potato left in the middle. It had baked them solid.
Technical Jargon
---
You are reading this, so you are certainly up to reading detail, i.e. doing research, about your chosen niche. There is so much on the net on almost every subject you could wish for.
Words like "Niche" and "content" are trade jargon. They can't scare you if you translate them into everyday language: Niche becomes: "What I am interested in" and "Content" becomes "sentences in stories."
There are so many different explanations of everything that getting a few different views is easy.
Just for fun, I "Googled" "particularism," a word I thought I had made up. It turns out there are many different types of "particularism" and I will not bore you with the details. It would seem to have an opposite in "pluralism."
What Can I write about?
---
Finally, if you really are here at this point now and really struggling to find something you are interested in, then consider writing about the one reason you are here: "Making Money on the internet."
There must be several aspects of this to look into.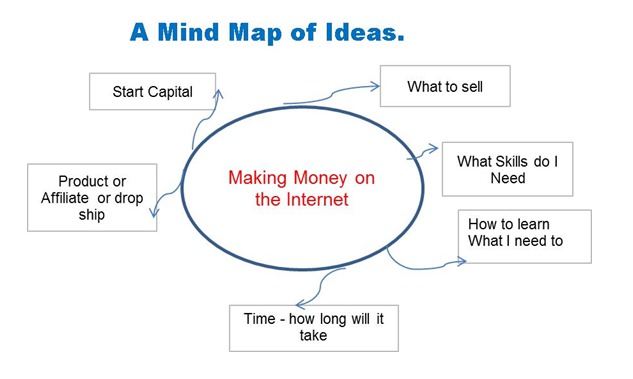 Just as a starter, I have made a simple Mind Map of The subject to give a few ideas about the Niche content you could write.
If you assemble these into sub headings Like this:
---
Making Money on the Internet
1. How long will it Take Me?
This will depend on how many hours a day you can dedicate to……….
2. What Capital Do I Need?
You do not need a lot but the more you can invest the faster things will move, be careful…..
3. Should I sell a product or drop-ship or become an affiliate?
If you have little capital or are unsure then affiliate marketing is a good place….
4. What Skills do I need?
This depends on how much you already know. You may need to build a website…..
5. How Do I learn Those Skills I Need?
a. Do a Word Press course, Internet Marketing course etc
b. One way is to join a community like Wealthy Affiliates where you can get all the training you need, support from others…..
6. What Should I Sell? 
 Probably the most challenging part, finding a niche and then finding those products in the niche. There are marketing tools like Jaaxy…..
I hope this can give you an idea about how to put together a Niche or area of interest which will enable you to start practicing this skill.
Practice Makes Perfect
---
You do not need to be an expert on one area of interest (niche.) You do need to start practicing going from the idea to a working plan of what to write about.
Once you have done this process several times, you will find it gets easier and easier.
Recap: How to Go From the Idea to the Writing (Content.)
---
Make a list of things you might like to write about

Draw a Mind Map of one of them, adding the things you associate with that Niche.

Make a list of the associated items in their order of importance. These are your sub-headings.

Begin filling in the detail under the sub headings.

Read what you have written and correct grammar and spellings (we all make mistakes with both.)

Go back and read the whole thing again as though you are a client desperate for this information and you need to learn all about it.

Rewrite or add as necessary. You may find your order needs rearranging, it does not matter.

One final check through and publish it.

All Things Get Easier as We Practice and Become More Familiar With Them
---
Write an article about "Writing better articles." Keep it and read it again in a year. It will help you to understand how much better you have become.
Read other people's articles about your niche area. There are plenty on the net. Become a positive critic and learn from the good ones. (Believe me, there are plenty of not so good ones.)
If you really want a community that can hold your hand and support you through all aspects of building a business, try Wealthy Affiliates. They are undoubtedly the cheapest way to get into the business, especially if you, like me, need help from the basics.
The wonderful thing about this business and WA is that everything is possible.
Make money and have fun while you do it.