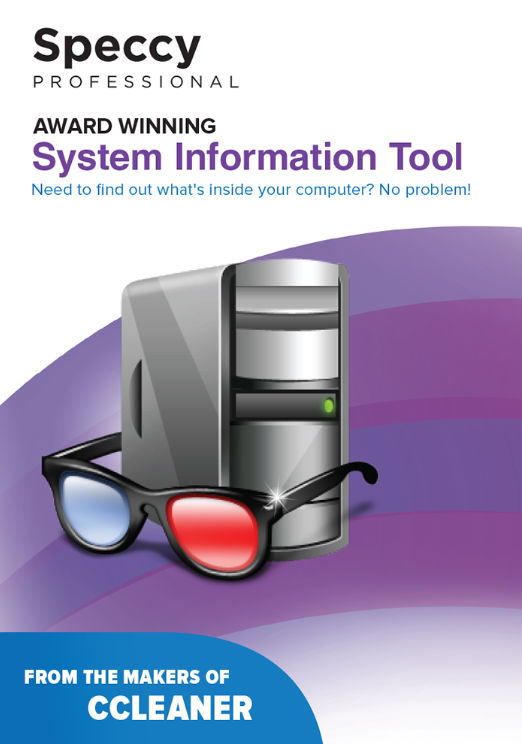 Piriform Speccy Review
Piriform Speccy comes in a free download version and a professional version. Speccy is an information tool. Speccy works on all Windows versions from XP to W10. It gives you the detailed specification of your operating system, your hard drive, all the software you have installed and the hardware in your computer. It can even give you the specification of items attached to your computer, peripherals.
What is Piriform Speccy Used for?
---
"Piriform Speccy" is a very useful programme which you can use to find out
What your Operating system is.
Your RAM (Memory, what kind and how much.
What kind of Motherboard you have.
What kind of graphics and if you have an integrated or separate graphics card.
What size and type of hard-drive you have.
Your Optical drives. (CD / DVD drives etc.
Your Audio system (s.)
This "Piriform Speccy" Review will give you a taste of some of the most useful parts of "Piriform Speccy". Have you ever wondered what memory you have? It can be very complicated to find out what is hidden inside your computer. "Speccy" brings it all together in one place.
Name:                    Piriform Speccy
Speccy Website:    https://www.ccleaner.com/
Price:                     Free, Speccy Professional, Speccy Business Edition
Owners:                 Piriform (CCleaner owners.)
Overall Rank:        95/100

Piriform Speccy Overview.
---
Let's look at the meanings of some technical words for people, like me, who have found these terms confusing in the past.
Speccy is a short name for "Specification." "Piriform Speccy" gives you a thorough breakdown of the specification of your computer.
Your computer is a box full of hardware and software. The hardware is the physical, electronic "bits" inside the box and connected to it, (Mouse, Screen, extra hard drive etc.)
Software. Software is the digital programmes running in your hardware that do all the work.
If you open up your computer "box" you will be able to see most of your hardware. You might not recognise what the bits are and you cannot see inside them to see how they are functioning. You cannot see the software, you can only use it.
The Motherboard is the printed circuit board which connects most of the hardware together.
Speccy provides technical descriptions of the hardware which include the capacity, speed and temperature of various bits of hardware.
If you are having problems with your computer, whether hardware or software, it can be useful to find out if anything is obviously going wrong.
e.g. If you check the temperature of your CPU, Motherboard and Hard drive, they show up as the temperature and a graphic with a green box in it. If it is red, then you might need your computer cleaning to clear out the dust.

"CPU"= "Central Processing Unit." This is the main chip or the real heart of your computer.
The information here shows that this computer has an Intel i5 CPU and it is a second generation i5. It also shows that the CPU operating temperature is quite safe, in the green area. (If your CPU overheats it is a sign of problems.) It also shows the speed your chip operates at, (2.5 GHz.) The faster the better.
Buying a New Computer
---
If you are looking at buying a new computer, at least ensure you are getting something better than your current one.
Sometimes a short overhaul and clean up using CCleaner can work wonders with your existing computer.
What Can Piriform Speccy Do?
---
I have summarised the main left hand menu in "Piriform Speccy". Each item can be clicked on and expands out to give a lot of detail.
e.g. "Operating System." Will open up a list of details including:
Version of windows.

Antivirus installed.

Firewall in use.

Browser in use and version.

Time zone in operation.

This tells you what will be activated automatically, updates etc. and when.

Many more quite technical details. I am not expanding on these because if you are already pretty smart with computer, you will recognise these and how useful they are.
The Pros and Cons of  Piriform Speccy.
---
Pros
A lot of detailed information about your software
A lot of detailed information about your Hardware.
A degree of trouble shooting information about system states.
Taken one step at a time, the information is useful and understandable.
Useful to beginners and advanced users alike.
All the information in one place.
It is Free.
No Spy Ware
No Mal Ware
No Up-sells.
No Ads.
Cons
Only one, the information is very detailed and if you are only a little computer savvy, you will need to have Google open to check out the meanings of some words.
Who Can Make Use of Piriform Speccy?
---
If you are a beginner or advanced user, the information is useful to see what is inside your computer.
If you are having problems, you can often discover the source of the problems using "Piriform Speccy". It is not a diagnostic tool it is an information tool but that information can help you.
If you are considering buying a new computer, ask yourself; "Why?" What is it I want and what must the new computer have?
Just regularly checking up on if things are going smoothly.
Why Use Piriform Speccy?
---
Check out your own computer in "Piriform Speccy" and then you know what you must look for in the new one.
e.g. If you are finding your computer is slow: it might be that your hard drive is nearly full. You can see that in the details about "RAM."
One solution is to run CCleaner and clear out any temporary files.
Run "Defraggler" and get your hard drive organised.
Run "Speccy" and see what state your hard drive is in now and how much spare memory you have. It will also show you operating temperatures and other technical information.
Piriform Speccy, Tools and Training:
---
"Piriform Speccy" is easy to use. Start by opening it up and going through the menus one at a time.
The layout in "Speccy" is very simple and very logical. You can do no harm just stepping through and reading what you understand.
Piriform have some really good instructions, here is the link.
If you want to take a snapshot of a particular page for future reference, you can do it through the menu at the top. It only stores the picture in "Piriform Speccy" format though. You can save a report in a text file and you can publish it to the net. The "publish to the net" option produces a secure and unique URL for you to use. This can then be used on the internet and it will not threaten the security of your computer or release personal information to anyone.
Each time you generate a new report and publish it, a new unique URL is produced.
This is useful if you are getting help with sorting out a problem on your PC.
Piriform Speccy Support. 
---
The information and training is excellent and detailed.
There is a lot of documentation and a community forum on the site.
The web-site is well laid out and very logical. It is easy to find what you are looking for.
The Speccy together with Piriforms other business software:
Piriform Speccy Price – Bundle Deal…
---
*Note: CCleaner Professional Plus is the 4-in1 tool and contains: CCleaner, Defraggler, Speccy and Recuva (Professional Editions). If you would like to see all the advantages of running the Professional Plus version of CCleaner, check below this link for the Bundle Deal:

The Speccy Free Version
This is my favourite place in this review. This superb piece of software with no Ads, upsells or malware, is totally free. I personally have sent a couple of donations to them because the Piriform suite of software has saved my bacon several times. That is not a requirement though.
The Speccy Professional
Speccy Professional is meant for serious computer users who have little time to update software and manually run tests. This version keeps your Speccy up to date, runs automatic checks and enables some report making which is useful if you are looking at problems and need to share information with experts.
For more detailed information on the Professional Speccy, check this link here.
Piriform Speccy Business Edition
---
Speccy Business Edition is trusted by thousands of top level businesses because it is professional and highly efficient.
Professional

Safe and Secure

Accurate picture of software and hardware.

Priority Technical Support

Pricing depends on the number of computers you want to license. Discounts for larger numbers.
  Buy Speccy for your Business today!
Piriform Speccy Video Walk You Through
---
Piriform Speccy, My Final Opinion.
---
This is such a useful tool that I do not know how to do without it.
It takes up very little memory on your hard drive.
There are no up-sells, ads or malware, or spyware.
"Piriform Speccy" gives you almost every last detail about your computer you could ever need in one place.
If you are even a little curious about what is hidden inside your box, download "Piriform Speccy" and find out. Rummage through the information. You will be surprised at what you can find out.
If you want to solve some problems or improve your computer performance, download "Piriform Speccy" and have a rummage through the info there.
I would not be without it, myself.
"Speccy" at a Glance:
---
Name:                       "Piriform Speccy"
Website:                    https://www.ccleaner.com/
Owners:                     Piriform. (CCleaner.)
Price:                         Free, Speccy Professional, Speccy Business Edition
Overall Ranking:       95/100
Verdict:         This software shines out as professional as it can get and is totally Legit.