CB Passive Income 4.0 Review
---
The words "Passive Income" always send a shiver up my spine. They imply that you can pay a fee to an internet guru and suddenly this money will begin flowing in and you can be passive and do nothing. CB Passive income 4.0 therefore set me on my back foot for this review. I began skeptical but see the sense in it now.
Name                                    : CB Passive Income 4.0
Website                                 : www.cbpassiveincome.com
CB Passive Income 4.0 price: $47/per month, $97/one time
Owner                                    : Patric Chan
Rank                                      : 5.5/10
"Passive Income."
---
This is why "passive Income" puts me on my guard, and you are right to be wary too.
I have known many rich and successful people and two things have struck me about those people.
They desperately wanted to be successful.

They were prepared to work hard at it.

They accepted failure as a learning process; something for them to do better next time.
I know, I am sorry, that is 3 things. The point is they had learned an important lesson in life; there are no free lunches. People will not just give you their hard earned money for nothing. You have to earn it. you have to give them something of value to winkle out their cash.
What I am getting at is this; I do not believe in a passive income, especially if you are starting from nothing.
I just needed to explain my feelings about making money.
I have also known a lot of poor people, (financially,) who believed that there were pots of gold at the end of the rainbow and they were just looking for some wizard or guru to tell them how to get it. they often pay a lot of money out the "gurus and end up with little or nothing.

An Honest Review.
---
For me, an honest review is one that really points out the pro's and Con's and explains why, as much as that is possible.
What is CB Passive Income 4.0?
---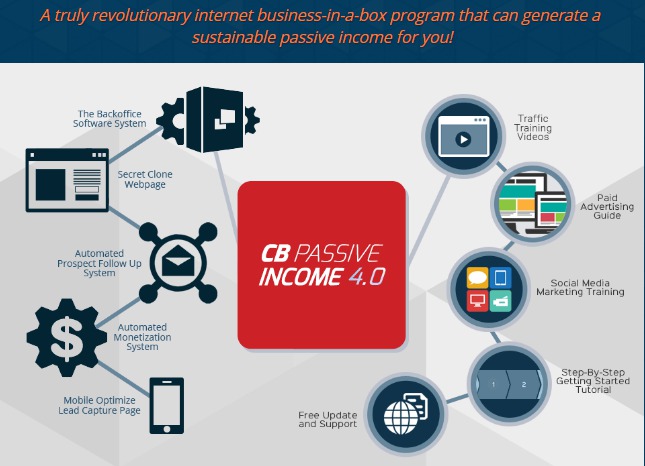 It is a programme designed by Patrick Chan. He appears to be an experienced entrepreneur, especially within network marketing.
This marketing programme is built around the sale of Click Bank products.
If you have no, or even few, of the required skills in building this kind of business, then CB Passive Income has done most of it for you; most of it. They leave one essential part up to you.
There are a range of products which are marketable in Click Bank and it can be a good place to sell because you can sell "on commission." This means you do not have to buy and stock any products. ~this is generally called "Affiliate Marketing."
This is all beginning to look quite good, isn't it?
The marketing is done primarily through social media and You Tube.
Now I will let you into a secret. The heart of any online business is the same as any business where buying and selling are done: you have to get people to look at your website / shop / products etc. before any of them will buy. In internet speak, this is called traffic or visitors to your site.
I have to hand it to Patric Chan, he has cracked this one in a smart way. I will explain exactly how later.
What Does CB Passive Income Cost?
---

$47 per month or a one-off fee of $97
I must stress 2 things though:
This does not include a "set up fee." I have no precise idea what the setup fee covers but I think you can depend on it being essential to get the business started.
There are also upsells for "essential" add-ons to improve your business.
Now my feeling is this is very expensive, because, the business is not yours. Patric has access to all your "clients through the emails. You also have their email addresses, but not uniquely for you.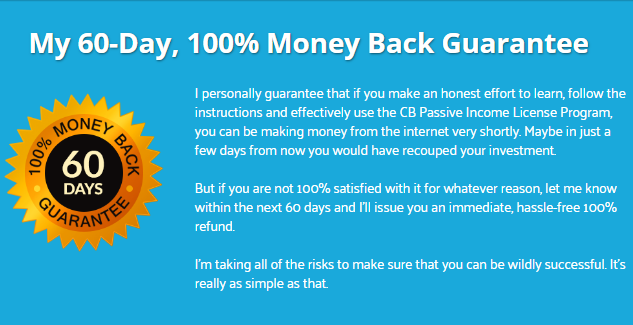 How Does CB Passive Income Work?
---
You offer a free eBook (supplied by Patric,) in exchange for their email address.

This gathers peoples email addresses.

Patric targets the potential customers with a marketing campaign to sell them things from Click Bank, using these email addresses.

You get commission on the sales he makes.
This means that the hardest part of the business is still down to you, the driving of traffic to your website. It can be costly if you go down the route of paid adverts. It is hard work whatever method you use.
The worst part for me, is that you have no control over what "offers" Patric sends out to your customers and he has your email list whether you succeed or not.
Personally, I would like control over my business and my customers. If I have an email list of customers I have gathered, I would like to decide what "offers" to make them, when to make the offers etc. Later I will tell you how you can achieve that end.

Can You Learn Anything From CB Passive Income Programme?
---
Yes, I believe you can learn quite a lot from the videos and tutorials but maybe there are cheaper, more efficient ways of learning the same thing and more.
You would be learning from a specialist in the field of internet marketing. By the time you have learnt enough to feel at home in the business, I believe, you will want to start out on your own. This means going back to basics and doing everything yourself.
This is quite possible through a company such as Wealthy Affiliate.
Will I Make Any Money From CB Passive Income?
---
I will have to qualify my answer and say; I believe it is possible but I do not think you will be able to scale the business up without simply providing Patric with a larger mailing list. This does seem pointless, for you, since a good mailing list is worth its weight in gold. Why give it away and pay for the privilege.
CB Passive Income does teach a lot of basic stuff but you can get a lot of that free with other programmes. What it does not really teach you is the hardest part of the business; getting visitors to your website and getting their email addresses.
This is the core part of any internet business and it takes a lot of hard work. (Remember my feelings about "passive income?")
I do believe that if you join CB Passive Income with your own email list and some experience in the business, you might get some benefit from it.
If you have joined Patric's programme and made a success of it, please leave a polite comment here. It would be welcome and helpful.
Summary of CB Passive Income
---
Is CB Passive Income a scam? No I do not think so.
Can you make money from it? I think there are cheaper and easier ways.
May I remind you of my experience of successful people:
They work hard.

They learn from their mistakes.

They really want to succeed in their own business.
My own opinion is that there are no legal shortcuts to learning the trade, working hard and really wanting to be successful. That means that there is no such thing as a passive income in the short term.
How Do I Get a Passive Income on the Net?
---
Yes, it is possible by:
Learning the business.

Practicing what you have learned

Establishing a sense of trust and belief with your customers

Marketing by solving people's problems.

Building up an income over time which allows you to outsource or employ other people to do some parts of your business.
This leaves you in a position of knowing your business and what is needed, so that you can find and build a team of reliable good people to do some parts of your business for you. Then the income you make becomes partly passive.
You are then in control of your business and especially your mailing list. You know your business because you have learnt and actually done every part of it.
Is this possible? Yes, it is.
Thank you very much for reading to the end. (I hope you did not skip to the end without reading?)
Whatever you do, I wish you luck in your enterprise.
Name                                     : CB Passive Income 4.0
Website                                 : www.cbpassiveincome.com
CB Passive Income 4.0 price: $47/per month, $97/one time
Owner                                    : Patric Chan
Rank                                      : 5.5/10
Read More Reviews: 
eCom Profit Sniper Review – Scam or Legitimate?