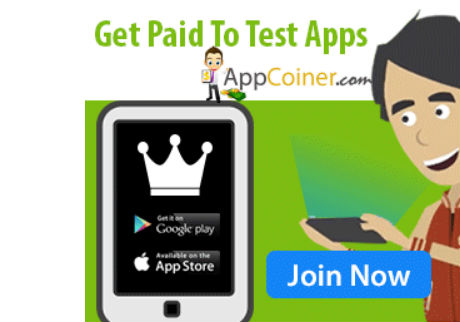 Get Paid to Test Apps
---
Appcoiner is a program to help you get paid to test apps. Testing apps seem like getting into a growth market. Can Appcoiner help? Can you get paid to do something fun, like, to test apps? What are you really getting paid to do? Can you get paid to test apps and really make some money? What is it really about?
Product Name                            : Appcoiner Get Paid to Test Apps.
Official Website                          : www.appcoiner.com
Appcoiner Owner                       : Unknown
Cost                                            : $27 (one-off payment.)
Business Type                           : Get Paid for Testing Apps.
Scam or Legitimate?                 : Legitimate
Is Appcoiner Recommended    : Not a lot. There may be some useful parts of it.
Rating                                          : 25/100
What is Appcoiner? Can I Get Paid to Test apps?
---
Oh Yes, you can get paid to test apps, websites and a lot of other, internet-based, programs.
Here, I have to admit to being baffled, just a little.
Their promotional video makes some remarkably impossible claims.
This is how they claim you get paid, in these three steps.:

Appcoiner claims to have a database of apps.
You open the database,

Choose an app.

Write a review.

Submit it and get paid.
This is remarkable because:
They ask you to pay for it. (I will explain in a moment.)

I found over 10 companies which pay people for doing reviews on apps, using their mobile, PC or tablet. None of them charged a cent or a Euro or a £.
Other Companies Where You Can Get Paid to Test Apps
---
You can see yourself if you simply Google "App testing." There are a host of companies that pay about $10 to $20 for a review.
The catch is this: You do not choose which review to do. They will email you with
an app they need testing.

A deadline for when the test must be done by.

How much you get paid to test the app.
You do not choose an app. They choose you and the app.
Don't get me wrong. This can be a fun way to make a little money. There are a lot of people offering their services so you must be quick to respond and do a good job to get more apps to test.
They do not come in a fast stream. The tests come in dribs and drabs.
The best thing is to register with several companies and hope they do not all send your apps at the same time.
A better way to earn money is this link below.

How Does Appcoiner Get You Apps to Test?
---
 This is where I am a little confused.
Appcoiner claims they set up special software to share the apps with you.
So what they are doing is collecting information on new tests required and passing it on to you.
To me, this makes no sense because normally, the app tests get sent out by email to you and you need to respond quickly to get paid and to get them to send you more apps. So introducing an extra step (Appcoiner) seems pointless.
And they want you to pay for it?
Following the initial video on the site, they ask for a name and email address from you.
I did that and was presented by another video including
Congratulations for reserving an Appcoiner account.

Potential earnings

2 Video testimonials that I am sure I recognised from another site. I think they must be from Fivver.

The price for signing up.
Potential Earnings.
I have seen this before on a lot of sites and it is totally meaningless. It is just a bit of basic maths. It is also the same one used in many other sites of this kind.
A video testimonial. Very brief and not very persuasive.
How much it costs to join Appcoiner.
There is no mention of why they have crossed out $47 and replaced it with $27.
Can I get Paid to Test Apps by Appcoiner
---
I think the answer is yes. Unless they have a very fast dynamic means of collecting the app test offers for their database, I can only see Appcoiner slowing things down, but I think it is possible to get paid.
Is Appcoiner a Scam?
---
If there is a product that you pay for, I guess we cannot call it a scam.
I very easily found at least 8 or 9 websites offering apps for testing.  It was only limited by my laziness. I could not be bothered to keep checking all the possibilities that just one search in Google produced.
I checked out 5 of them and they pretty much all said the same thing. When you applied to become a tester, they would give you a trial run/test.
If you pass the test, you are on their books and they send you apps/websites for testing on your iPad / phone/tablet etc.
There was NO fee to pay to them.
Is There an Alternative to Get Paid to test Apps?
---
Many. This article is about Appcoiner so I will not go into detail about the alternatives.
I found many apparently genuine sites associated with testing apps, games, websites etc.
One of them shows their terms and conditions which form the basis of an agreement you have with the company. It is 3,500 words long.
"Terms of Use for the Tester Work Community Members."
Compare that with Appcoiner where there is no contract and no terms and conditions.
If you were an app developer, which company would you choose to get your apps tested, confidentially, and safely?
This is not a review of other sites, so I do not guarantee the legitimacy of them.
Many of them have much more detail of what is involved and have a test for new applicants to ensure they can do the job. Appcoiner has none of this.
if you want to make money in the right way check this link below.

Final Thoughts on Appcoiner and Others
---
Getting paid to test apps is a possible source of income.
You will need to be well organised.
You will need to respond very quickly and do a constantly good job.
You will need to take a suitability test, (in most cases.)
You will not get enough work from one company to keep you busy all the time.
I find Appcoiner an unnecessary and, possibly, a hindrance since it could slow down the process of getting the reviews done and getting paid to test apps.
Some of the reviews are done by voice, by the way, so you may not even have to write them down.
Each company tends to specialise in different niches in the market. Some companies have a wide range of testing on their site and will they will decide what is most suitable for your skills.
With Appcoiner you pay the fee and join.
I know that you are probably reading this because you want to make some money on the internet.
I did most of my training and set up my business through a company which offers a genuine free trial. They offer extensive training in all aspects of internet business and fantastic support for everyone. Interested? Click this link below.

Product Name                            : Appcoiner Get Paid to Test Apps.
Official Website                          : www.appcoiner.com
Owner                                         : Unknown
Cost                                            : $27 (one-off payment.)
Business Type                           : Get Paid for Testing Apps.
Scam or Legitimate?                 : Legitimate
Is Appcoiner Recommended    : Not a lot. There may be some useful parts of it.
Rating                                          : 25/100
If you have any experience or opinion with the "Appcoiner Get Paid to Test Apps" Program, please leave a comment and your point of view, this can help me and others to get understand better and judge whether or not it is a scam.
Thank you for reading my article. I wish you all the best.