Is Take Surveys for Cash Legit
---
Is take surveys for cash a scam or legit? Can you earn $500 for one survey? Take surveys and make cash, legit or scam. Take it from here, get the truth.
There are several survey type programs on the website and they all claim that you can earn a lot of money from surveys. They all charge you a fee for "joining" and then give you information linked to doing surveys.
How good are they?
Product Name: Take Surveys for Cash
Website          : http://www.takesurveysforcash.com/
Price               : $37 + $24 + $24
Owner            : Jason White
Ranking         : 5/100 (Not Recommended)
Take Surveys for Cash Overview
---
Since the claims for this product are so large, I think I will present this overview from the point of view of an affiliate.
An affiliate is someone who sells Take Surveys for Cash to earn a commission.
See this:
If you look at the affiliate payments of $78. This is what you can earn by selling this product.
Look at the payment from the customer: $85. Is this legit?
Most of the money goes in commission. You, the customer, are paying about $7 for this product.
Does that make you wonder about if this is legitimate, this Take Surveys for Cash?
When you open the landing page, there is a video. Watch the video and look at the page.
This is a wonderful amount. If you were the owner, earning $7 a time from your program, you would have to sell 500 programs per month to earn this money. Why not do a few surveys instead?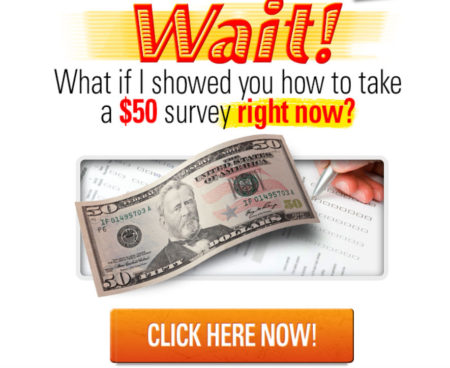 Aha! Here are another bit of maths. $3,500 at $50 per survey means doing 70 surveys in a month. Wow! Not bad, that means about 2 to 3 surveys a day at that rate of pay.
But, just wait a minute: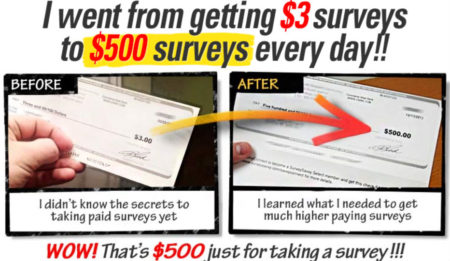 There is a little secret in this. You can earn $500 per survey. Perhaps this is where the $3500 comes from. This is only 7 surveys a month.
Are you confused? I certainly am.
By the way, there is no secret. That is conveniently forgotten once you have paid your money.
What is Take Surveys for Cash about
---
Let's go back to the affiliate arrangements and perhaps that will shed some light on the whole thing.
Let's see what they claim an affiliate can earn per month:

This equates to 1 affiliate selling 1,282 programs per month, or 43 a day. This is where the money really lies. Sell the program to other people. To help you get going, they offer you:
Landing pages,

Promotional banners

Keyword suggestions 1,375 of them

Follow-up emails.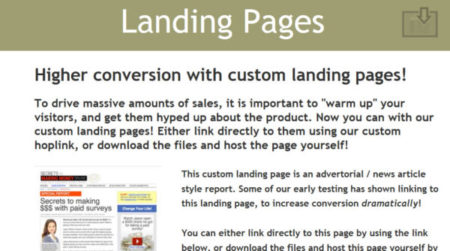 Notice the first line: "it is important to warm up your visitors.."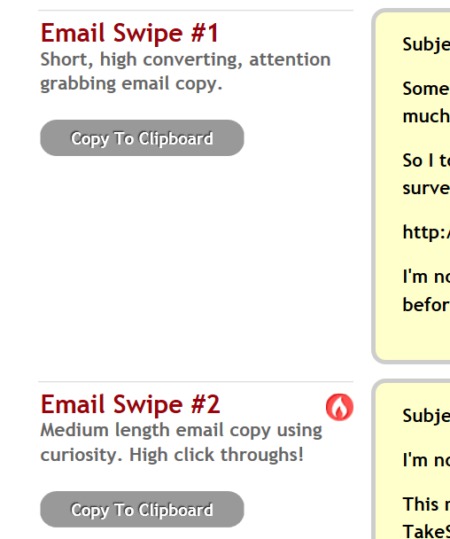 Notice this is 2 email suggestions out of 6 or 7.
This is all about promoting Take Surveys for Cash.
1375 keywords for promoting Take surveys for cash is about the names of promotional articles you can write to get on page one of Google.
There is a highly sophisticated support program for selling Take Surveys for Cash.
They have certainly rolled out the carpet and prepared the affiliate marketing side really well.
The product, Take Surveys for Cash is another story.
What Does Take Surveys for Cash Do, is it Legit?
---
This is the $1-million-dollar question.
Inside, there is a list of places you can find surveys to complete.
This list and many others are free on the internet.
In fact, the free ones are probably more up-to-date and better quality.
There are four over-riding facts they miss out from all this hype:
There are many surveys to completed on the net.

You can earn money from some of them.

They pay from $0.50 to $3.00 for the most part because

There are thousands of people sitting at home wanting to do them.
The Good in Take Surveys for Cash
---
There is a product for your money.
You can get a Click Bank guarantee of money back in 60 days.
The Bad in Take Surveys for Cash
---
Just read the above review and guess for yourself.
I know there will always be some people who will not believe me, but will believe the hype and emotional persuasion.
Please look at the ridiculous figures they are quoting, they are unbelievable because they are not true and also do not make sense.
Who is Take Surveys for Cash for?
---
Anyone with plenty of money to spend and who does not care if they waste it.
Who is Take Surveys for Cash Not for?
---
Any sensible person who can see through the smoke and mirrors.
(Are there legit ways of making money on the net? Yes. It takes study, hard work and persistence, though. See my banner later.)
Take Surveys for Cash Legit Tools and Training
---
There is no training, just information.
Take Surveys for Cash Support
---
Let me know if you get a response, I didn't.
Take Surveys for Cash Pricing and Upsells
---
Yes, at least 2 upsells, as you can see from the affiliate commissions.
Take Surveys for Cash Balance Pros and Cons
---
Only 2 Pros:
There is a product.

You can claim your money back through Click Bank.
Cons:
Oh boy, so many, but basically:

It is a waste of money buying something you can get for free on the internet.
Take Surveys for Cash Scam or no Scam
---
I do not like calling a program a scam, but this one comes really close.
Product Name: Take Surveys for Cash
Website          : http://www.takesurveysforcash.com
Price               : $37 + $24 + $24
Owner            : Jason White
Ranking         : 5/100 (Not Recommended)
Verdict: Take Surveys for Cash Recommended or Not?
---
I cannot recommend Take Surveys for Cash to anyone. It seems to have been set up to create an affiliate marketing program, not to sell a valid, useful product.
This review is my personal opinion based on some years of experience and a lot of really excellent training. I have made mistakes and I have learnt some expensive lessons. Those lessons have usually been due to believing the emotional hype that is used by unscrupulous people. Their attempts to draw people into buying their programmes often follows a recognisable pattern.
If you have experienced similar problems, especially with the program reviewed here, please do comment. We welcome honest views of all kinds.
If you are interested in a genuine free trial of an excellent training platform, click the button below. No obligation.