What is Rich Dad Summit
---
Based on Rich Dad Poor Dad by R. Kiyosaki, this summit claims to give you all the tools you need to become rich. What you need is the rich dad poor dad way.
Originally a book, Rich Dad, Poor Dad is a set of principles showing you how the rich think. By adopting these principles, you can become richer. Does it work?
This summit is very cheap, so if it is genuine, then it is quite a gift.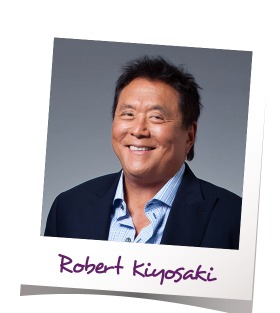 Product Name: Rich Dad Summit
Website           : http://www.richdadsummit.net
Price                : $1 + +
Owner              : Brad Kendle for the Rich Dad Company.
Ranking           : 35/100 (Not Recommended)
Rich Dad Summit Overview
---
There is an annoying introductory video, annoying because it has been made with the repetitive video music of 1970s video games. I know it is a cheap fast way to make a video but it is not congruent with the attempt at convincing me this program will help me to get rich.
This is what they claim to give you in the 2-day summit.

Notice the words "all."
My instinct is preparing me for a disappointment at this point because this appears to be an offer of stupendous generosity for $1. Should I be suspicious?
What is Rich Dad Summit About?
---
You may well notice that the summit was 2017 but it seems they have recorded it and are still, at the moment, offering the recording for a $1. Great.
Let's jump in.
There are several "experts" who will be doing presentations. See the picture.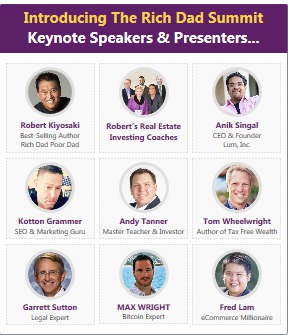 There are 9 of them and the key speaker is Robert Kiyosaki himself.
It is clear that the heart of his teaching is that to become wealthy, you must change your attitude towards wealth.
You need to adopt the same mindset as the wealthy people have and bring their children up to understand.
There are more presentations but they all follow on from the need to reset your mindset to allow you to become wealthy.
This kind of makes sense to me. OK, so why are they selling this so cheap?
Why is the Rich Dad Summit only $1?
---
Here are their reasons:
It is already recorded and digital, so it costs very little.

Everyone can access it for $1.

There are no excuses left for you. You are on the net; all you have to do is pay the $1.

Investing in something new can be expensive. It can be scary. Well, this is cheap and if it is too scary for you, switch it off.

Well, here it is: the first upsell, and we have not even got started. I thought the summit would supply everything I need?
After stating that the summit would give you everything you need, you find out that it is just a forum to sell you more expensive courses and memberships.
What Does Rich Dad Summit Do?
---
According to the website:
Help you make more money

Create systems that let your money make more money

Start a business so you can chuck your job

Grow an existing business even bigger

Add extra income streams to your existing ones.
These are the claims, and, if they are true, then this could be a really good deal. I ask myself the question: "where is the catch?"
The catch is the invitation to buy a membership for $67 per month, which is $804 per year, before the summit has even started.
This is a common tactic of persuasion in any industry and it often works very well because once you have bought into the summit, you have an emotional attachment to the program. You believe this can help solve your financial problems.

If you decide to sign up for the summit, (and why not?) be careful of this little box: it may be one month free but you will need your card details to get it and it commits you to $67 per month after the first month.
Once signed up and on the inside; here they go again: another upsell for $97.
So, what happened the claims of "everything you need…"
I apologise to you, my readers, but this is where I get out.
The $1 summit is a "sprat to catch a mackerel." A small fish to catch a bigger one is good fishing but not good value for the customer.
In my opinion, this is an attempt to trick people.
It is a pity because there is undoubtedly some good material and some good advice in the individual presentations.
Kiyosaki is no fool. He has been bankrupt but so have many good business people and it shows he has some resilience to rise up out of the ashes of big mistakes.
Rich Dad Summit, The Good
---
There is a product and some useful information in the presentations.
There is a 60 guarantee on the initial purchase price. I believe that may only cover you for the $1 with ClickBank.
Rich Dad Summit, The Bad
---
The upsells are relentless and do not really give people what they want and need.
Why Kiyosaki lends his name to poor businesses like this, I am really baffled. He makes a lot of money out of them, I guess.
There are clips on YouTube of interviews with him concerning these kinds of practices in real-estate programs and they are very revealing.
Who is Rich Dad Summit for?
---
If you want to learn how to market a product that has little value to the end user and little substance, this is a real classic one.
If you are in doubt about your ability to become rich, try the $1 offer but do not get the upsells.
Who is Rich Dad Summit Not for?
---
Any beginner or genuine seeker after knowledge of how to get rich.
There are some excellent books on the subject and you can get them a lot cheaper than this Rich Dad program.
Rich Dad Summit Tools and Training
---
There are a wide range of videos presented by different experts in different fields. I personally do not like Kiyosaki but he has got one thing right: getting wealthy needs an attitude of mind that most people do not possess.
Can you learn it? Oh yes!
Can you learn it from the Rich Dad Summit?
There are bits and pieces there but getting the books would draw a lot of information together rather than spreading it out amongst a series of videos.
If you are interested in putting together and building a lasting business online, see the end of this review.
Rich Dad Summit Support
---
Email support.
Pricing and Upsells in Rich Dad Summit
---
See my comments above. This program is littered with upsells and this is despite the claim that the Rich Dad Summit will give you all the tools you need to get rich.
Balance Pros and Cons of Rich Dad Summit
---
There is always something to be gleaned from these programs if you are strict with yourself and do not fall for the upsells in the beginning.
Take the $1 offer and watch it all.

Learn from it.

Make notes of the things you find interesting and relevant to you.

Consider other options.

Sleep on it.

Come back to the upsells if you still find it may be relevant and appropriate to what you want.
Rich Dad Summit, Scam or no Scam
---
It is not a scam.
It is a clever, hard sell which people can be easily drawn into.
See some background information on Robert Kiyosaki in "What is Rich Dad Poor Dad." (Internal Link.)
There are no quick and easy ways to make money easily.
The internet has opened up possibilities which mean you can start small and grow a business. It is hard work and enjoyable.
Verdict: Rich Dad Summit Recommended or Not?
---
For me, this has to be no, but you can check it out yourself for a $1.
Product Name: Rich Dad Summit
Website          : http://www.richdadsummit.net
Price               : $1 + +
Owner            : Brad Kendle for the Rich Dad Company.
Ranking         : 35/100 (Not Recommended)
This review is my personal opinion based on some years of experience and a lot of really excellent training. I have made mistakes and I have learned some expensive lessons. Those lessons have usually been due to believing the emotional hype that is used by unscrupulous people. Their attempts to draw people in, to buying their programmes, often follows a recognisable pattern.
If you have experienced similar problems, especially with the program reviewed here, please do comment. We welcome honest views of all kinds.
If you are interested in a genuine free trial of an excellent training platform, click the button below. No obligation.