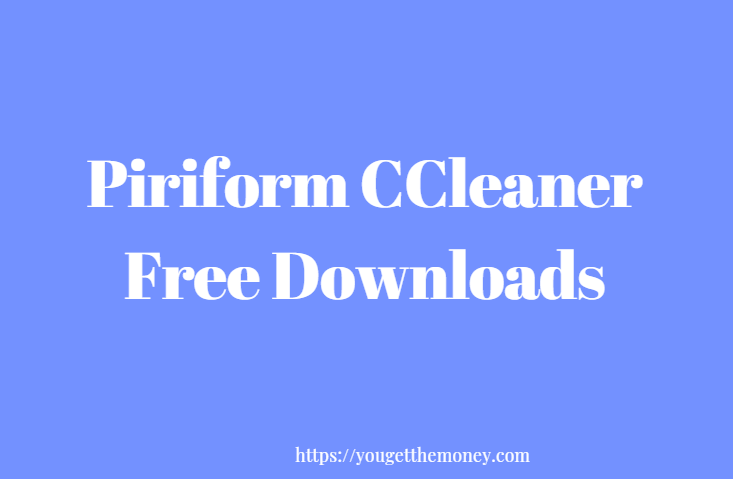 Piriform CCleaner Free Download
---
If your PC or laptop is slowing down? Piriform CCleaner free download clears out tons of unwanted files and it's free. Give your PC a spring clean now.
Piriform produce several helpful pieces of software and they all come free, although you can upgrade if you want to. Computers grow unwanted duplicate files like weeds in a meadow. They need clearing out and your PC refreshed.
Professional Plus Version of CCleaner  – Bundle Deal
---
*Note: CCleaner Professional Plus is the 4-in1 tool and contains: CCleaner, Defraggler, Speccy and Recuva (Professional Editions).If you would like to see all the advantages of running the Professional Plus version of CCleaner, check below this link for the Bundle Deal:
Piriform CCleaner: Piriform CCleaner
Website                :  https://www.ccleaner.com
Price                     : Free
Owner                  : Piriform
Ranking               : 100/100
Piriform CCleaner Overview
---
Apart from the recycle directory, there are several other places in a computer where Windows stores files which can be useful in the short term but just clog up the system in the long term.
CCleaner can search these out, show you how many there are and then delete them in seconds.
You can select to leave some files, if you want to, and delete others.
Safer browsing can be achieved by clearing out unwanted cookies. Cookies are useful in many situations but there are many which are used by outside companies to track your behaviour on the computer.
You can select to delete these cookies or some of them. If you leave them, they will slow down the operating of your computer and, of course, pass on a lot of information about you and your activities.
You can clear up errors in your registry. This is an area that needs some care and you do need to understand a little about the registry before attempting this.
Faster start-ups can be achieved by turning off unnecessary programs which start up every time your computer boots up.
There are quite a few programs that automatically boot up and run in the background. In many cases, this is not needed and they will boot up when you start them for use.
Having programs running in the background slows down many operations on your computer.
What is Piriform CCleaner (free) about
---
Let's look at what CCleaner looks like: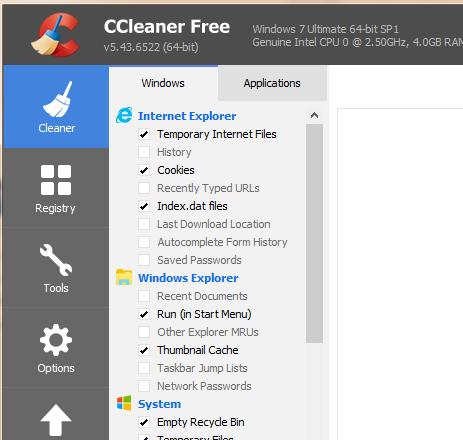 You can see that only some of the boxes are ticked. The "Temporary Internet Files" is ticked for clearing but "History" is not. This because I like to make access to recent internet activity available. It is not vital, just a personal choice.
The temporary files are not needed when you boot up your computer. They are just dead weight.
In the left-hand menu, click on "tools."
Click on "Startup" in the 2nd vertical menu.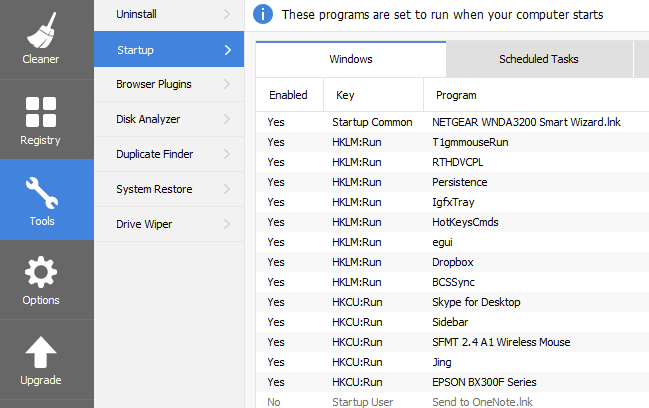 You can see under "enabled" that there are some with a yes and some with a no.
You can enable or disable programs from starting up here just by highlighting and right-clicking.
This does not disable the program. It only stops it from starting up automatically.
N.B. You will need some programs to remain enabled, like your mouse, printer etc., so do not disable everything.
Browser plugins can be installed or removed here. Many plugins are automatically installed and just clog up the pc working. Most are unnecessary.
There are some really powerful tools in CCleaner and some should be used with caution.
What Does Piriform CCleaner Do
---
By tweaking your settings and running CCleaner daily, you will find
Fewer errors.

Faster hard drive function

Smoother running

Increased privacy.
This is not a firewall or an antivirus program. It is used to clean out the unwanted and unused bits of files.
Combined with Defraggler which sorts fragmented files on your hard drive, it can speed up your computer and remove errors.
The Good in Piriform CCleaner
---
Piriform is a professional company with many years' experience.
There are no upsells.
There are no Ads.
There is no spyware or associated Malware.
You can use the free version as long as you like. (I like the free version so I make an occasional donation.)
It is easy to use and the menus are quite intuitive.
There are business versions which can have a license for multiple users and also for networking. All the information is on their website.
This is a program which does what it says on the tin and is very stable.
I have used it for over 10 years and it has never failed on me.
The Bad in Piriform CCleaner
---
This is a difficult one because I have used Piriform products for years.
I encourage anyone to use them.
I cannot fault their professionalism or any aspect of their programs.
Who is Piriform CCleaner for?
---
Anyone with a PC or MAC, Tab or laptop.
There are apps for mobile phones but the performance varies depending on the make and model of phone.
There are business and network programs and almost any IT situation can be catered for.
Who is Piriform CCleaner Not for?
---
I cannot think of anyone who is reading this who would not benefit from using CCleaner.
Piriform CCleaner Tools and Training
---
There are detailed links on their website for each product with a wide range of information regarding settings, usage and troubleshooting.
Piriform CCleaner Support
---
There is support for accounts, technical issues and a community open to sharing ideas and usage.
Piriform are easy to talk to and very professional in their approach.
Piriform CCleaner Pricing and Upsells
---
At the time of publishing, these are the prices: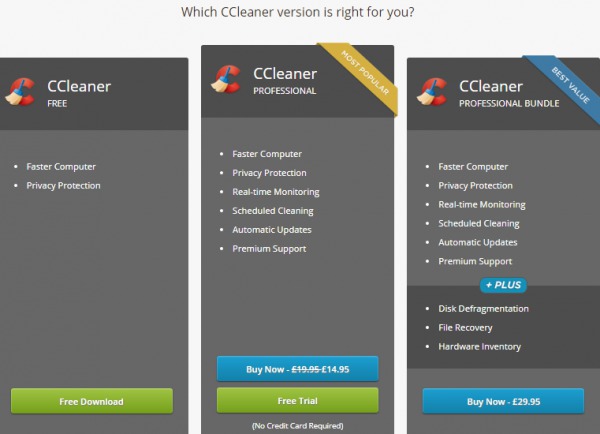 The price is in UK £ but the US prices are very similar.
The other programs Piriform produce are
They do a really good package including all 4.
Again this is in £ but the US price is very similar.
Piriform CCleaner Balance Pros and Cons
---
The Pros are many.
A free package that is
Powerful

Free

Free of Ads

Free of Malware

Very fast and effective.
A con is perhaps that CCleaner is extremely powerful and beginners should take things slowly.
Piriform CCleaner Scam or no Scam
---
CCleaner is not a scam.
Verdict: Piriform CCleaner Recommended or Not?
---
Absolute 100% recommended for anyone. It is rare to find something so professional, reliable and easy to use, these days.
This review is my personal opinion based on some years of experience and a lot of really excellent training. I have made mistakes and I have learnt some expensive lessons.
We welcome honest views of all kinds, so please do leave comments, for and against.
If you are interested in a genuine free trial of an excellent make money online affiliate training platform, click the here. No obligation.