WordPress Website Templates free download
WordPress website templates free

A WordPress Website is a digital "Shop Window" of your products or services. It can have a wide variety of purposes and appearances.
The appearance and way it functions are something which was quite complicated to arrange and "tailor make" to your requirements.
Not anymore.
Now, like clothes, we can get "off the peg" websites and modify them to our own purposes. They are a framework within which we can add our own content.
This saves days and weeks of design time and therefore lots of money.
It is also incredibly easy and fast.
Website templates free download
These "of the peg" websites are called templates. There are hundreds of them in many different forms. These wordpress website templates can be a free download and some times they can be paid for.
Why? You may ask do people design wordpress website templates and then give them away free?
There are two main reasons:
Some people like to design things that are clever and useful and take pride that others can use them.

 Some very professional, expensive designers create a design for a specific purpose, for a specific customer and then publish the "Template" for others to use.
Simple and Fast
Since WordPress requires no great programming knowledge to set up and maintain, it has become a world standard with remarkably simple and complex websites developed in it.
These "off the peg" designs are called Themes.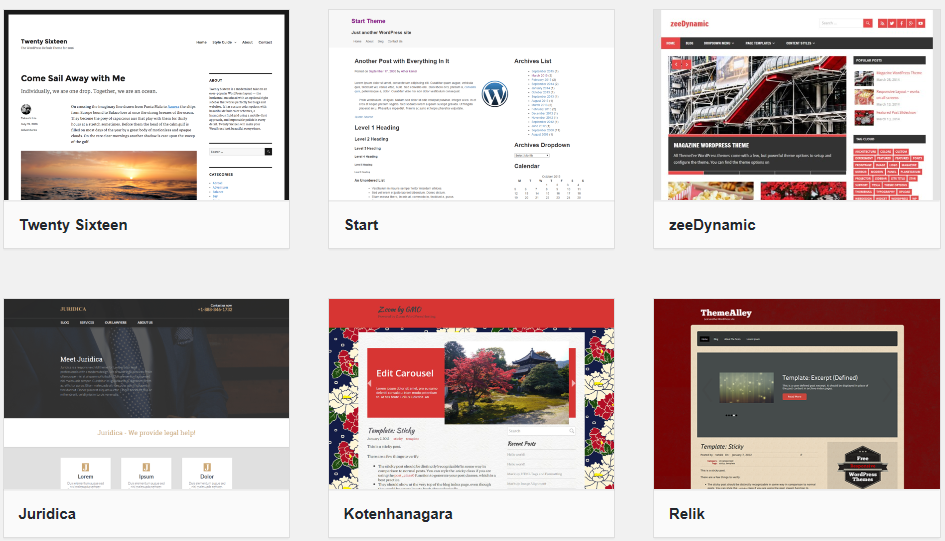 Free wordpress Themes download
A Theme is the layout, design and functioning of the website, already created for you but leaving you options to
Change colours

Input your own words. (Content.)

Analyse your traffic (people visitors to your site.)

Vary sizes.

Run a business with credit card merchanting / Paypal etc.

Place your own Pictures and graphic designs.

Etc etc.
Each Theme consists of a series of defined "boxes" with specific functions
Display

Blogging

Contact

Menus

Headings for Pictures etc

.
When searching for Themes you will find a large selection of headings or groupings e.g.
Blogging

Business & Services

Creative Arts

Music & Entertainment

Magazine (EZine)

Information

Online Shop

Promotions

Photography

Restaurant & Hospitality

Selling

And many more
You can then pick one which closely fits your general style of intended website and try it out.
To do this log in to your WP site and find "Themes" in the settings. It is possible to try different Themes with the same content, so a good idea is to
Load a theme
Input some basic data and pictures then go back to "Themes" and upload different ones to see what your website will look like.
Your data might get moved around a bit to accommodate the new Theme but you should not lose anything. Be on the safe side: keep copies of your pictures and content on your own PC or laptop.
Play with the settings to see what you can create.
N.B.
It is very important to remember that themes which are quite old may not be updated or maintained so when picking your first one ensure that your free WordPress theme is a quality design with decent support.
The Themes usually have dates on them to show when they were developed and posted for use. Note these and also any other information linked to your chosen Theme.
Free themes are ideal for hobbyists, bloggers and people who simply want to make an online journal of their thoughts, but they also work wonders for legitimate businesses that want to save some cash for other endeavours.
WordPress Themes are an example of themes used by amateurs and professionals alike.
An example of an expensive professional WP website: http://www.bacardi.com/uk/home
Note this is NOT a free one. Put your birthdate in and see what develops. But please drink sensibly.
For free Themes and good ideas to enhance your creativity:
Two free wordpress websites to help you to build an online marketing business.
These are to get you started and see what is possible. There is a lot more but I do not want to overwhelm you.
WP is flexible, malleable, (look it up, it's a good one,) adaptable and of course free.
The one thing you may have to pay for is the "hosting." This is usually a nominal amount a month. Ensure the hosting company is set up for WordPress.
It keeps the control in your hands and the costs down to rock bottom.
If you want to be guided through your first website and make some money online, it might be an idea to try WA for a gentle FREE step into web building and commerce.
If you are creative or want to blog, there are many themes suitable to get you started.
Good luck on your journey and Happy "Theming."