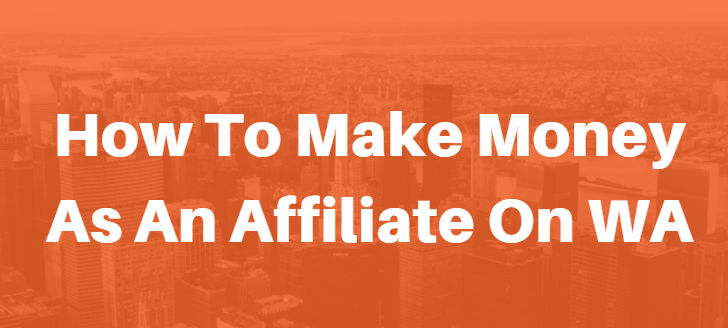 How To Make Money As An Affiliate On WA
---
All the members of wealthy affiliate have the privilege to introduce their products to someone who wants to build their online business in the correct way. Even if you are a free member; you not only get the free lessons but also 2 free wordpress websites for your initial start to build your online business. You can also promote WA and earn affiliate commissions as a free member.
How to make affiliate commissions
---
Free Member Commissions:
Initial $19 offer, Commission =$4 (First month only)

$47/month, Commission =$11.25 recurring

$359/year, Commission = $87.50 recurring
As a free member you can earn $4 in the first month only for a referral who pays $19 in the first month. Thereafter a free member receives $11.25 per month for the referral who continues to be a paid up member, (paying $47 / month.) If your referral becomes a yearly premium member (paying $359/year,) you can earn $87.50 in commission per year.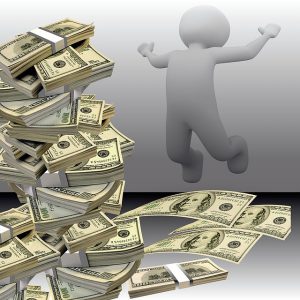 Premium Member Get Higher Commissions:
New member sign-up, commission $1.

Initial $19 offer, Commission =$8 (First month only)

$47/month, Commission =$22.50 recurring

$359/year, Commission = $175.00 recurring
Credits: For every new member who signs up, even for a free account, you receive: $1. Initial (first month) $19 offer, Commission: $8 (one-off.) Consequent monthly payments of $47/month earn you Commission: $22.50 recurring monthly. Customers paying $359/year earn you commission: $175 recurring annually. If you are a premium member at the Wealthy Affiliate, you get higher commissions as an affiliate.
When you become a premium member, firstly, you will enjoy higher affiliate commissions, you can secondly, benefit from all the extra courses and video classes Wealthy Affiliate provide and thirdly, if you get stuck with any online business problem you will get 100% help from the experienced Wealthy Affiliate community and, of course, from the owner WA Kyle in one to one coaching.
Best Free Website Hosting
---
Best free website hosting – Ah! I forgot to tell you. This is very important for every online business. Wealthy Affiliate premium members can also have their websites hosted without charge, $0.00. WA manages, takes care and protects your website, keeps it SPAM-FREE, as a premium member.
WA Free Keyword Research Tool
---
WA free keyword research tool – As a premium member you will enjoy more benefits from WA, since you also get the free WA keyword research tool. You can benefit a lot by getting organic keywords and ranks, the advertisement keywords and traffic numbers of your competitors. This is definitely one of the most popular tools. It not only helps you to save time and money you have invested, it also allows more time to do other stuff you wish to. It also helps you to get good low competition keyword phrases for your pages, better ranking through the Google search engine and other search engines.
For example, if you write your article for your website, you can use the WA keyword tool to search for the best keyword phrase to get the best ranking in Google and other search engines. I will show you how you can use this WA keyword search tool.
I choose "how to make money online for free" keyword phrase because the keyword competition SQR is low.
How To Create a Link (Tracking Link) to a Website ( URL )
---
A tracking link is a normal link which you attach a part of the campaign name to, at the end.
For example:
Normal Link: http://yoursite.com/how-to-make-money-online
Tracking Link: http://yoursite.com/how-to-make-money-online /facebook.ad
If you use a tracking Link for social media or pay for advertising to promote your website, you can monitor where your traffic is coming from, how many visitors you get every day or month, and how many conversions you have. It is simple, easy, and accurate. So a tracking Link will give you an idea of how to go forward, what your next step will be.
When you use the tracking link for the first time, it is better to start with a small cost and TRACK the results, to monitor the traffic for a period of time. Analyse the traffic and the value of a conversion and decide if that traffic is worth you investing or not. So tracking the link to your target traffic can help you understand which audience you are looking for. Then the tracking link will tell you which traffic you need to focus on and which one gives the highest rate of conversion.
Free Web Hosting
---
Wealthy Affiliate provides the best free web hosting and 2 free domain and free starting membership. Wealthy Affiliate free web hosting makes your site spam free, protects it and loads it fast.
If you are premium members you will benefit from:
WordPress optimized servers

Spam free protection

Fast loading

Daily backups

Email and forwarding

Fully managed servers

Site Health analysis

Full redundancy

Site builder

WebsiteSSL (https)

Getting comments

Getting feedback

24/7 (365) monitoring and technical support for your website
website auto login as a premium member you can have a peace mind to focus on developing your website content and online marketing and to promoting your business. Because, without worry, you can have more time to improve your knowledge and your website.
This is the LINK for you to join, remember free membership, to start to build your website or blog. 
---
Read more article please click here