Be The Best You Can Be Everyday
---
Be What You Can Be, And More.
---
And do what you can do, and it is always more than you think.
Yes! Yes! I hear you say. But HOW?

Here's How
---
To explain this crazy method, of achieving more than you think you can, I need to give you an example that makes sense and is real.
20 years ago I went for a haircut in a large Northern City. I found a "Unisex" hairdresser in the centre and climbed the stairs. The Salon was large and very busy with 6 or 7 hairdressers, a waxing room, an office and an owner called Pat.
Pat was larger than life and very bubbly. She was dressed in a long orange loose top which clashed horribly with her strawberry coloured leggings. She rattled while she moved with so many large bangles and massive clunky earrings that I almost missed her lovely friendly smile.
She cut my hair whilst chatting and although it was nothing profound we discussed, she had an opinion on everything and seemed interested in everything.
We became friends and I realised Pat was interested in anything that would make money.
Her story about the Salon was that it was up for sale and she was determined to buy it, but had no idea about hairdressing. She bought it on the condition that the previous owner worked on, for Pat, and taught her about cutting, colouring and extending hair.
Now here's the point: When we go into business, we go through a simple 4 step process.
The Normal process is step 1,2, 4, 5. However what often happens is 1.2.3.
We think of an idea, plan it and forsee the problems in costs or logistics or competion etc. So we go back tostage 1 and re-think and re-work the ideas. Then we plan the business based on that. Then, Oh dear! There will be problems with time or other problems so we go back to thinking about it. We cycle round the red areas of Think, Plan and Find Problems.
Of course this means we do not get the business off the ground. At some stage we have to take a leap into the unknown and actually "Do" the business.
When we do that we often find our anticipated problems do not exist, but other ones do exist.
Let's go back to Pat. She was relatively uneducated and had no business education and little experience. She also could not anticipate problems. She could only see opportunities, everywhere.
Here is Her Model
---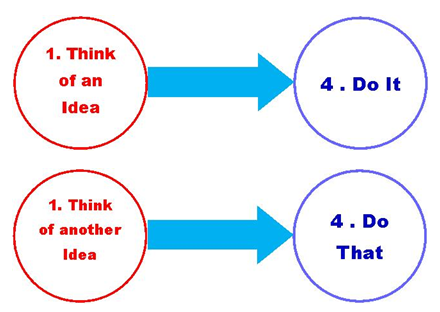 Pat's plans were almost non-existent. Now since she started a lot of unplanned businesses, a lot failed. Then, every now and again, one succeeded. The last time I saw her she had 4 houses let out, her own large bungalow in the country with a gardening business attached. She had 2 houses in Portugal, plenty of money and was intending to emigrate.
I am not proposing you should follow this way of doing business. I would like you to understand that doing business is a risk, as are most things in life. The model you follow can be the first one, although be careful to avoid the Think / Plan / Rethink loop. At some point you need to dip your toes in the water and start doing something.
Pat's Plan is not one I personally recommend. Something in the middle where you accept the possibility of things going wrong and minimise the risk.
If you are thinking about an online business, then the community I belong to is WA, Wealth Affiliate.
You can dip your toes in the water for free. Try out the community, try out the training and get some good solid professional support. If you feel comfortable with it, then consider becoming a professional member and extending the training and support.
The professional members have to pay either monthly or annually and at the same time can earn commission on referrals.
Oh! I forgot, you can still earn money as a free member, just not so much. You can take what you have learned as a free member and use it elsewhere in your own business.
I enjoy working online. It suits me to work when I like and the rewards are not limited, like a salary. It does take some time, but that is the one thing I have plenty of. I must warn you of two things though:
You will not get rich overnight.

You might be very successful and earn a lot.
Read More: How To Be The Best You Can Be Everyday
---
Read more:  How To Make Money As An Affiliate On WA