Is Wealthy Affiliate An MLM
---
In the UK Pyramid schemes are illegal. MLM or Multi-Level Marketing is legal. MLM can work with good products. Often they offer high gains in a short time. True or False? I interviewed an expert in MLM. Good and bad MLMs Is Affiliate Marketing an MLM? Are you joining an MLM? Get the reality and truth here.

Pyramid Schemes
---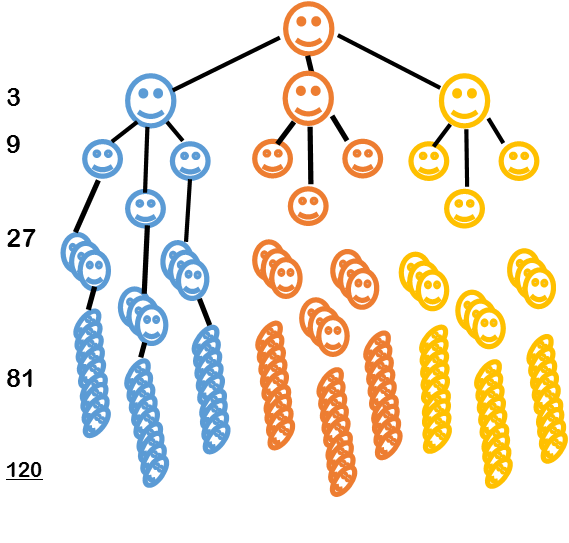 They say a picture is worth a 1000 words.
Imagine you join a pyramid scheme. This is where recruiting a "downline" is more important than the sale of a product.
Level 1: You
Level 2: You recruit 3 people  (3 people)
Level 3: They recruit 3 people each  (9 people)
Level 4: They recruit 3 people each  (27 people)
Level 5: They recruit 3 people each  (81 people)
Level 6 They recruit 3 people each  (243 people)
This is a total of 364 people at the moment. These pyramid schemes are never this regular but we must use some kind of model to demonstrate how they work.
Each person pays $100 to join. That means an income to the company of 100 x 364 =$36,400.
Some of this money is paid out in commission to each level of recruiter.
The company keeps $20 out of the $100 for each recruited person.
Here is what happens to the rest ($80): It is distributed out to the person who recruited you, the person who recruited him/her etc. down the line.

What Can I Earn in a Pyramid Scheme?
---
Level 2: You earn $20 for each person you recruit. (3 x $20 = $60)
Level 3: You earn $20 for each person those 3 recruit. (9 x $20 = $180.)
Etc until the $80 (left over after the company takes Its $20 from the $100,) for each person is used up.
Diagram
Here is where you will have to trust me that you end up with $4,020. Not a bad return for $100 and if you repeat this each month, i.e. recruit 3 people, you will generate an income of $4,020 per month, each month.  MMM
What is Wrong With This Model of a Pyramid Scheme?
---
Well, first of all, extend the calculations on a little further in the recruitment.
If everybody has to recruit 3 people each month to make this money, then after 12 months, your downline will be 531,441 people.
IF YOU STOP AFTER THE FIRST MONTH.
If you continue to recruit 3 people each month, for 1 year, and they all do the same: You will have a total downline of 791,160 people in your business.
Now, how many people live in your town? How many of them might join?
One last bit of maths: Assume you continue recruiting 3 people a month and they all do the same etc.etc. then after a total of 15 months, you will have a downline of over 21 million people.
You will have earned a miserable $4000 a month (15 x 4,000 = $60,000) for doing this and the company will have made 21,000,000 x $20 = $420 million.
I hope you can see why schemes built on recruitment only work for the people who set them up and run them.
Hey! Want a real crazy bit of number crunching? Try this: If each of your downline recruits 3 new people each month, your downline after 2 years will be 94,143 million or over a quarter of the population of the USA or 1 and a half times the population of the UK, (each person will have to join one and a half times.)
The maths is simple: start with 1 and multiply by 3, multiply that by 3 etc. until you have done it 24 times. (24 months.)
What happens, in reality, is that people run out of friends and family they can recruit and then quit after a few months.
Are Pyramid Schemes Illegal
---
In the U.S.A. and the U.K., Yes.
How Do The Pyramid Schemes Exist
---
By pretending to sell goods which are radically overpriced and unsaleable and so do not attract buyers.
What is MLM
---
Did you note that there is not a mention of a product in Pyramid schemes?
This is because the product, if offered, is only there to avoid legal issues and attempt to hide the fact that the company is running a pyramid scheme.
With Multi-Level Marketing, there is always a product or service offered.
In most MLM companies the product is the main source of income and recruitment is secondary, in theory.
An MLM company should work as a normal retail system with people selling the products directly to the customers with no actual premises. No shop or office means costs are drastically reduced.
Many of the MLM companies rely on word of mouth, parties and exhibitions to advertise their products. This saves another chunk of money. The people recruited into the business are often self-employed so the company saves taxes, administration, insurance etc. etc,
The theory is that this reduces the cost of the product so much that there are generous commissions to be had when selling the products.
No Advertising

No Tax

No Premises

No Employees

No Insurance

No Health Plans

No Transport for employees.

No Pension contributions.

Simple Distribution costs
This should add up to a colossal saving in product costs and therefore more commission to the people who sell the products.
MLM the Reality
---
But somehow it almost never does.
There are some MLM companies which have survived quite a long time.
Amway

Avon

Herballife

FM

Forever Living

Kleeneze

Nu Skin

Tupperware
These are a few of the well-known MLMs that have survived at least 5 years.
A lot of MLMs fail after a few years. I do not know why. Perhaps it is the difficulty making a reasonable level of income without working 24 hours a day.
MLMs look good on paper and some of them have superb products, so the model has a flaw and it is maybe that, at the beginning, a new recruit sells to their family and friends and then runs out of steam finding new customers.
Tupperware used to sell through parties and it worked really well.
Kleeneze sells from catalogues distributed locally then a return trip to collect the catalogues and orders. The cost of keeping up with the new catalogues, which you have to buy, and returns of unwanted orders, soon eats into already thin profits.
How to Make Money with MLMs
---
The only way is to recruit other people and receive an over-riding commission on their sales.
Recruitment is time-consuming and expensive. It is also hard work and quite specialises as a skill. You are then dependant on your colleague's motivation and hard work as well.
You have to have your own direct sales as well.
Definitely not a "passive" income here.
How to Make Money from Wealthy Affiliate
---
First of all, Wealthy Affiliate is neither a pyramid nor an MLM company.
Wealthy Affiliate is a training company that runs a series of courses to teach you how to build an internet based business, from the bottom up.
You can start with
very little knowledge,

an internet connection and

a computer.
The skills you will acquire are useful in any business, especially an internet-based one.
It is run on a membership basis and people who follow all the training and put the skills into practice will be successful.

With a community of thousands to help and support you, as well as from regular updates, you can solve almost any problem you come up with.
It really is a "one-stop shop," dealing with websites, hosting, marketing and all the things you need to build an online business.
Unlike MLMs and Pyramid schemes, there is a genuine free membership for you to "try before you buy." The advantages are:
The cost is a fraction of most joining fees for MLMs and

You can leave at any time.

There are no products you must stock or buy.

No Scams

No Adverts

No expensive surprise upsells

No recruitment

Some software you can buy when you are earning money to increase your profits.

A genuine free trial where you can test out the courses and build a website of your own.
What is Affiliate Marketing
---
If you would like to sell things from a store which carries over 40 million products and services, without stocking one of them, you can sell them on commission.
This is called Affiliate Marketing. You become an affiliate to the company and market their products for them. They stock, deliver and collect the money from the customer and send you the commission.
You have to do the marketing. (All in the courses.)
So there is no profit from recruiting in Wealthy Affiliate, no downline or upline. There are real products and they are chosen by you, the business owner. The products or services can be anything you chose and Wealthy Affiliate makes no profit in what you sell.
Wealthy Affiliate is not a Pyramid scheme, not an MLM, it is a real business.
Who Offers Affiliate Relationships
---
Let us start with Amazon. They are just one. Click Banks and many, many more.
Wealthy Affiliate shows you how to do this, step by step.
You can study, learn and become your own boss.
This can be a sustainable business that will develop and grow as fast as you want it to.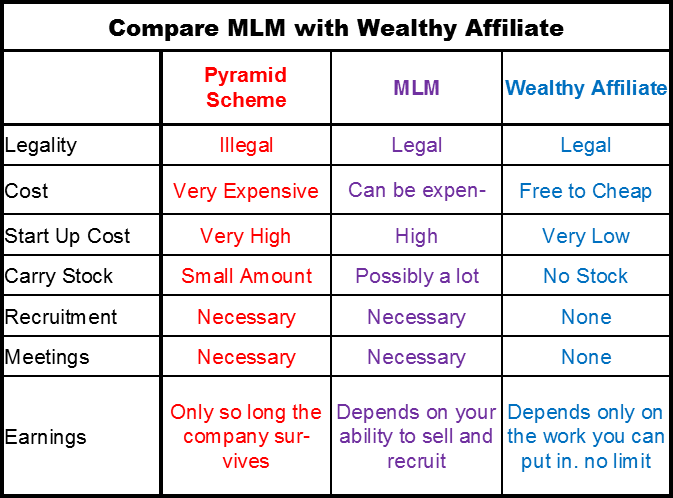 A simple comparison shows the advantages of a genuine business over Schemes that involve recruitment.
As an Affiliate marketer, the sky really is the limit for what you can earn.
Warning. It is hard work and takes time. The earnings depend on how much work you can put in and how much you already know.
Assuming you are starting with very little, wealthy affiliate is one way to break into the online business. It is the future as more and more people buy online.

Thank you very much for your time and for reading my article. Whatever you decide, I wish you good luck and hope you do well.
You are welcome to leave a comment on your own experiences. Your honest opinion can help other people make the right decision.