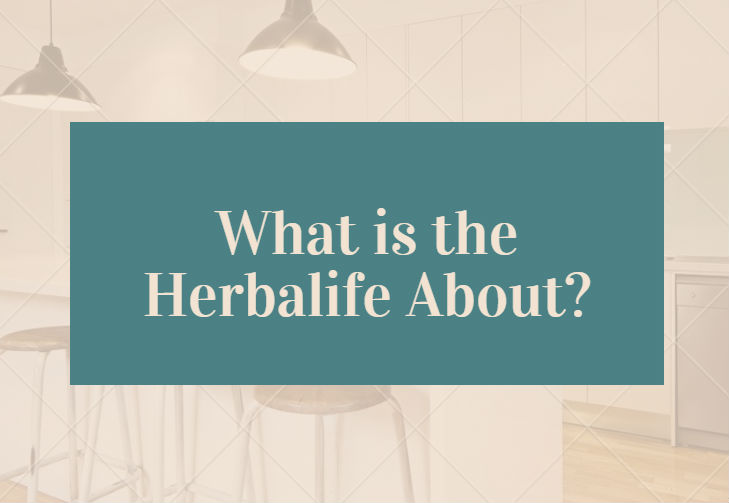 What is the Herbalife About?
---
A guide: What is the Herbalife about. The Herbalife diet, the Herbalife program. Are you about to lose weight, with their shakes or lose your money?
Herbalife is not about a fly-by-night scam.
Herbalife has been around for a long time and has a solid reputation for dieting and making money. Unfortunately, the story does not end there.
Read this guide to how to make money with Herbalife and possibly how to lose weight.

Product Name: Herbalife
Website: www.herbalife.com / www.herbalife.co.uk
Price: Varies, depending on the business program you choose. Free just to buy product at retail prices.
Owner: Publicly listed company.
Ranking: As an MLM or Network Marketing company 65/100
Herbalife Overview
---
An MLM company based on selling health products, Herbalife focusses mostly on
Weight loss

Nutrition

Energy
Herbalife has been around since the 1980s.
Herbalife have thousands of employees.
Herbalife markets a range of shakes which are intended to be used as meal replacements.
Users of the Herbalife products are strongly encouraged to become distributors to get a discount on the prices, usually 25%.
Personally, I find MLMs difficult to expand into a dependable business. I prefer affiliate marketing, which does not involve recruiting and the earnings potential are fantastic.
What is Herbalife About?
---
This depends on how you view Herbalife.
You can use the Herbalife products for weight loss and general health supplements or see Herbalife as a business opportunity.
There are 3 ways to make money through Herbalife.
Become a Herbalife distributor and sell the products at retail thus making a 25% profit.

You can recruit other Herbalife distributors and earn a small amount on their sales, usually about 8%

Increase your Herbalife team sales to various target levels which will give you an even bigger discount and so higher % profits.
You can of course, choose not to become an active business person but just become a Herbalife distributor to get the discount for your own purchases.
Is Herbalife About Cheap Products?
---
There have been several comparisons done on Herbalife and competitor prices. Herbalife products are expensive.
Do Herbalife diet products work well? This is a challenging question because there have been several legal challenges over the years, questioning Herbalife claims regarding specific products.
Many of these Herbalife products have been discontinued and considerable compensation paid out.
The reviews of Herbalife products are very mixed. They vary from "stupendously good" to "damaging to your health."
The truth is probably somewhere in between and probably depends on the individual person and other factors in their lives:
How much exercise they do

How much alcohol they drink

How many cigarettes they smoke.

How much sleep they get

Their state of mind when attempting to lose weight

Their medical health at the time.
What Does Herbalife Do
---
Herbalife sells weight loss and health supplements.
Herbalife does this on several continents and most of their sales are made through Multi-Level Marketing, (MLM.)

They have various levels of entering the Herbalife business which depend on the amount of product you are prepared to buy.
Herbalife's own statistics make it clear that about 85#5 of distributors make no money. You might assume they become distributors to get their 25% discount.
Only a few hundred people in Herbalife in the USA made around a $100,000 in the last few years. There are over 450,000 Herbalife distributors in the USA.
The Good in Herbalife
---
There must be something good in the Herbalife products, so many people have used them over the years.
For someone with a small amount of capital, building a network of Herbalife distributors is hard work but possible.
Herbalife do have a strong track record of good extensive training.
The Bad in Herbalife
---
Herbalife is about recruiting. Even new distributors who have signed up to get a discount, get pressurised into recruiting.
The Herbalife customer support has come under a lot of criticism over the last few years. This is mainly to do with returns of unused or unwanted Herbalife products.
It is very difficult to make any really good money in Herbalife.
All businesses take study and hard work but the rewards from Herbalife are not good enough, in my opinion. I found the culture, philosophy and potential in this company so much better.
Who is Herbalife for?
---
If you work in a large company and have a wide circle of contacts, you could become the "go to" person for Herbalife products, if you can avoid the pressure to recruit.
You will never make a fortune in Herbalife unless you are in the top 1% but could build up a circle of regular customers over time.
Who is Herbalife Not for?
---
Anyone who wants to create a long-term solid business or livelihood should avoid Herbalife.
Anyone who is a bit shy of talking to people should avoid Herbalife or any other MLM.
If you are not going to use Herbalife products, it is not worth being a Herbalife distributor.
About Herbalife Tools and Training
---
What Herbalife do really well is the training they supply. They have a lot of training geared up to helping people develop a business. Unfortunately, that is also based on recruitment into Herbalife distributorships.
They have a lot of Herbalife home-grown tools to help people in their business development.
Support in Herbalife
---
As mentioned earlier, Herbalife customer support has taken a downturn over the last few years. It used to be really good.
I hope Herbalife pick up the problems and solve them soon.
Pricing and Upsells in Herbalife
---
There are several different ways of becoming a Herbalife distributor starting with a basic distributor pack. This is about $100.
Herbalife Balance Pros and Cons
---
Herbalife is a well-established company with a range of products to sell.

Herbalife have a well-developed business plan.

The Herbalife products are expensive so difficult to sell.

Many of the Herbalife products are not regulated and there have been complaints about side effects.

The Herbalife business depends on constantly recruiting new people into your network. That becomes more difficult quite quickly as you run out of friends and family.

People are turning more and more to the internet for their purchases. That is why I prefer a complete internet business model, like affiliate marketing.
Is Herbalife a Scam or not
---
Herbalife is not a scam.
Herbalife IS an MLM. This means that the business does not work based on just selling Herbalife product.

Product Name: Herbalife
Website: www.herbalife.com / www.herbalife.co.uk
Price: Varies, depending on the business program you choose. Free just to buy product at retail prices.
Owner: Publicly listed company.
Ranking: As an MLM or Network Marketing company 65/100
Verdict: is Herbalife Recommended or Not?
---
My personal opinion is that Herbalife products need a major cost review and a marketing model based on affiliate marketing through the internet.
In their current form, Herbalife is not at the top of my recommended list.
This review is my personal opinion based on some years of experience and a lot of really excellent training. I have made mistakes and I have learnt some expensive lessons. Those lessons have usually been due to believing the emotional hype that is used by unscrupulous people.
If you have experienced similar problems, especially with the program reviewed here, please do comment. We welcome honest views of all kinds.
If you are interested in a genuine free trial of an excellent training platform, click the button below. No obligation.