What Is Vorwerk?
---
Vorwerk is an amazing company with great products. Vorwerk, the MLM is good, but can Vorwerk survive the competition. Can Vorwerk compete with modern products?
Product Name: Vorwerk
Website: https://corporate.vorwerk.com/en/uk/ / https://kobold.vorwerk.co.uk/career/
https://corporate.vorwerk.com/en/career/career-opportunities/#direct-sales  
Price: Free to join direct sales force
Owner: International company with subsidiaries.
Ranking: 75/100

What is the Vorwerk Overview
---
Vorwerk is a large multinational company with subsidiaries all over the world.
Vorwerk was established in Germany over 130 years ago and primarily focussed on high quality vacuum cleaners. They were not successful until they began marketing directly through demonstrations.
There are 3 main groups of products in Vorwerk:
Kobold which handles the vacuum cleaners

Thermomix which handles high quality kitchen appliances

Jaffra, which handles the health and beauty products.
There are a lot of quality websites and wealth of information on the above websites so I will not repeat it all for you.
I will attempt to give you just a short summary.
I really like the Vorwerk image but I feel that there is much more flexibility in Affiliate marketing.
What is Vorwerk About?
---
Vorwerk markets a range of products and appears to do this through both direct sales and online marketing.
Vorwerk has an ethos of openly declaring the kind of people they like to have working for them and as direct sales people.
In Vorwerk, each strand of products is marketed separately?
Kobold Vacuums

Themomix kitchen appliances

Jaffra health and beauty.
If you want to market a Vorwerk product, you will have to choose which range to sell.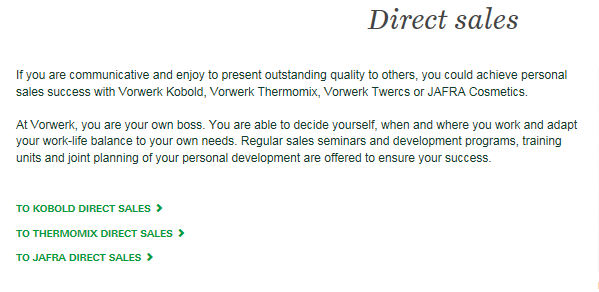 This is from the Vorwerk USA website.
They stress that the Vorwerk training is very high quality and you will be trained up thoroughly in the products you sell.
They claim that you can organise your own schedules and plan your working week in a way you see fit.

The sales in Vorwerk are based on demonstrations and are not high pressure.
The Vorwerk products are high quality but not cheap.
Vorwerk profess a professional approach to everything and like their sales people to be passionate about the area they are working in, as you can see from the UK based carter promotion above.
It appears that once you are trained and have experience in Vorwerk's products, you can rise to "manager" status and probably benefit from sales of the people you manage.
This is not the traditional approach to MLM. The way Vorwerk do it is much better. They focus on selling product and not recruiting.
What Does Vorwerk Do
---
Apart from marketing a range of quality products, Vorwerk has investments in a wide range of other businesses, in many countries in the world.
I am not going to go in to detail because this is about an MLM opportunity.
I am reminded of Kirby vacuum cleaners, when I see the Kobold Vorwerk ones. Heavy duty, well made and very expensive.
I do wonder how Kobold Vorwerk stands up to the new Dysons. They are lightweight, cordless and very efficient.
The Vorwerk Thermomix kitchen appliances are superb. I wonder how they stack up to Magimix and some of the top of the range other makes. Both Vorwerk Thermomix and Magimix are versatile and have records of being long-lasting.
What is the Good in Vorwerk
---
Although Vorwerk is in direct sales, they focus on
Ability

Enthusiasm

Quality products

Selling products, not recruiting.

Vorwerk direct marketers sell through demonstration of the products.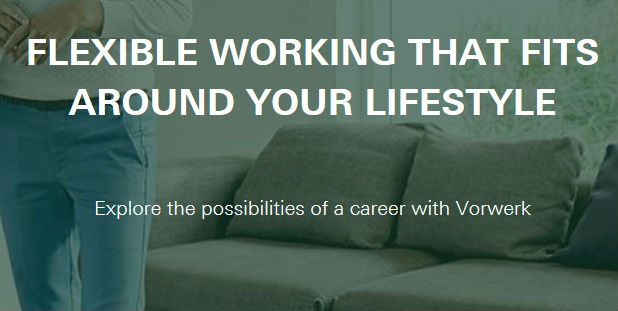 Jaffra Consultants in Vorwerk are among 500,000 in 18 different countries. This is selling Vorwerk's health and beauty products.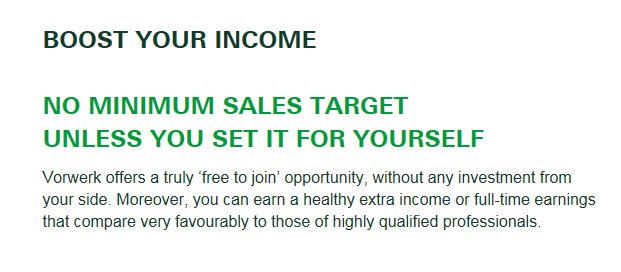 If you really can set your own sales targets, then there is only pressure you place on yourself to be active. This does mean Vorwerk sales people can genuinely be flexible in their plans.
My own feeling is that, with the right training, you can use affiliate marketing to promote any product you like. You can learn how to do that here.
Vorwerk certainly appear to support their sales people very well. Because Vorwerk base their activity on sales, not recruitment, they come across as ethical and supportive.
What is the Bad in Vorwerk?
---
The products are expensive.
You are limited to their range of products.
They also sell online so the direct sales people do not have a monopoly.
I can imagine that it will take a while to build up your product knowledge and make your first sales. Income from Vorwerk may take a while to come through.
Note comparisons with Magimix and Dyson products because Vorwerk products are good but maybe not when compared with these other Titans of appliances.
Who is Vorwerk for?
---
If you have a passion for Health or cooking or domestic cleanliness, Vorwerk is probably one of the best companies to join.
Vorwerk has some very good product training and will support you in building your own business.
Who is Vorwerk not for?
---
If you prefer to stay at home and build your business.

If you prefer to be able to change the products or services you offer

If you prefer to follow market trends.
Then Affiliate marketing may be better.
What are the Tools and Training in Vorwerk?
---
Vorwerk have really been using direct sales for many years and they are efficient and professional about it.
There is a lot of good training and support in the company for anyone embarking on s career or business with them.
What are the Pricing and Upsells in Vorwerk?
---
It is free to join Vorwerk. As far as I could see, there are no sneaky upsells, it is not in the ethos of the company to do that.
Vorwerk, What are the Pros and Cons
---
This a difficult assessment because Vorwerk is a large company with apparent high levels of quality in their products and training.
They want people who are:
Motivated

Creative

Hard working.
Personally, I like Vorwerk for that.
Vorwerk charges nothing to join them but they do need you to apply with some background and motivational thoughts as to what you want to do.
I like that.
My issues with Vorwerk are that they have products which lend themselves to affiliate marketing in today's world, not direct sales.
The range of products you can sell in Vorwerk is limited. This means that when the products you are selling become superseded by something better and cheaper, you are stuck in a diminishing market.
The world of "retail" is changing so fast and peoples core purchasing methods are rapidly changing.
The immediate reaction to being presented with something new, these days, is to look it up on the internet. I think you can guess the rest.
Health and beauty and the kitchen appliances in Vorwerk, have a better chance for the future.
Vorwerk Scam or no Scam
---
Vorwerk is definitely not a scam.
Product Name: Vorwerk
Website: https://corporate.vorwerk.com/en/uk/ / https://kobold.vorwerk.co.uk/career/
https://corporate.vorwerk.com/en/career/career-opportunities/#direct-sales   
Price: Free to join direct sales force
Owner: International company with subsidiaries.
Ranking: 75/100
Verdict: Vorwerk Recommended or Not?
---
I do recommend Vorwerk with the reservations above.
This review is my personal opinion based on some years of experience and a lot of really excellent training. I have made mistakes and I have learnt some expensive lessons. Those lessons have usually been due to believing the emotional hype that is used by unscrupulous people.
If you have experienced similar problems, especially with the program reviewed here, please do comment. We welcome honest views of all kinds.
If you are interested in a genuine free trial of an excellent training platform, click the button below. No obligation.