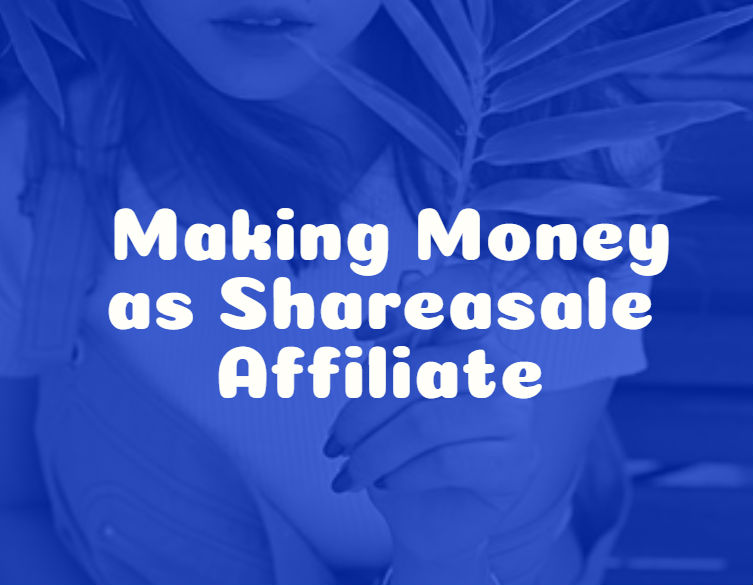 Making Money as Shareasale Affiliate
---
Shareasale can get you into affiliate marketing, quickly and easily. Can you make money with Shareasale and prosper; is the whole thing a scam? Is Shareasale for you?
This guide to Shareasale will help you decide.
Making money with Shareasale is making money through "affiliate marketing."
If you are not sure what that means, have a look through my short guide below.
Product Name  : Shareasale
Official website: https://www.shareasale.com/
Price                 : Free  to Join as an affiliate
Owner               : Brian Littleton Founder and CEO in 2018
Ranking            :95/100
A Guide to Affiliate Marketing with Shareasale
---
If you are reading this, it is likely that
You want to make some money

Would like to be independent

Probably do not have a lot of money to invest in a business.
Affiliate marketing is for someone like you.
Imagine you have a warehouse with millions of products to sell and you do not have to pay for 1 of them.
Imagine that every time you sell one of those products, you get paid a commission.
The products can be
physical,

digital,

training or

memberships of clubs.
The products can be services like
window cleaning,

financial advice,

how to care for babies.

Grooming dogs.
In fact, anything where a customer pays for something and you get a commission for doing the marketing.
Taking a commission for marketing a product or service is called "Affiliate marketing."
Shareasale Overview
---
Shareasale have been in business for 18 years so they are well established and not going to disappear overnight.
They act as middlemen, linking merchants with products up with affiliate marketers, like you.
Your job is to promote the products you have agreed to sell through Shareasale and collect commission when they are sold.
Shareasale have a wide range of merchants dealing with many different types of products.
Your part in the deal is to market their products in an ethical way.
There are over 5,000 merchants linked to Shareasale for you to represent.
Shareasale's training videos, analysis tools and support are excellent, especially for a beginner.
Getting to grips with Shareasale is not difficult although you do need at least one website before you can start.
What is Shareasale about
---
Shareasale has collected together a large number of merchants who want their products marketed by other people. The merchants want affiliate marketers to promote their products on the affiliate marketer's websites.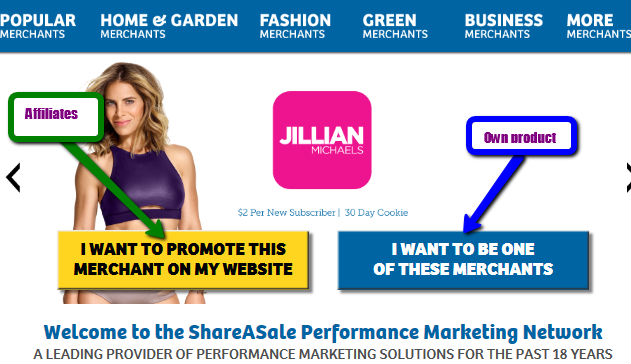 You can see on the Shareasale website here there are links for Affiliate Marketers and also for new merchants to sign up.
We are only going to look at the affiliate marketing on the Shareasale website.

On the same Landing page of Shareasale, is a link you can follow to read about "Affiliate marketing."
I like this approach, lots of information because not everybody knows what it is all about.
Shareasale Merchants
---
They already have a lot of merchants for you to choose from:
You can see there is quite a range to choose from in Shareasale. I have just picked out a couple of pictures to show you. There are hundreds more.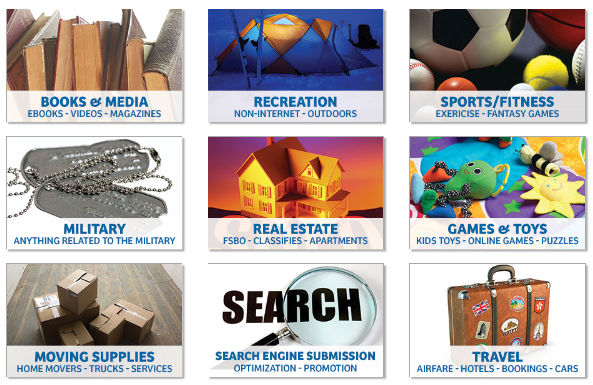 If you set up your own website and decided on your own niche, e.g. "Fishing," you would need to
search the net for fishing products

Contact the companies and

sign up with each one to arrange affiliate facilities.
Some companies may well say no, especially if you are a beginner and just have a small website with not much content in it.
Ideally, merchants like you to have a busy website with lots of articles and reviews.
Everyone has to start somewhere and a new website has nothing inside it until you write it.
With Shareasale, you simply type in a niche like "Fishing," in their internal search program and out will come a list of Merchants needing affiliate marketers linked with "fishing.". A large chunk of work has already been done for you.
Shareasale Affiliate Sign up
---
This is incredibly easy. Shareasale's forms and processes are laid out logically and step by step.
Here is the first part of the Shareasale signup page: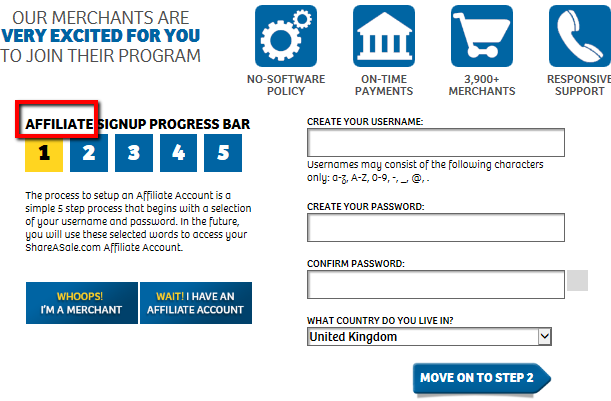 This is the Shareasale Affiliate signup page. It is logically and sensibly laid out and takes you through the sign-up, step by easy step.
After setting up your account, you will need to put in the details of your website: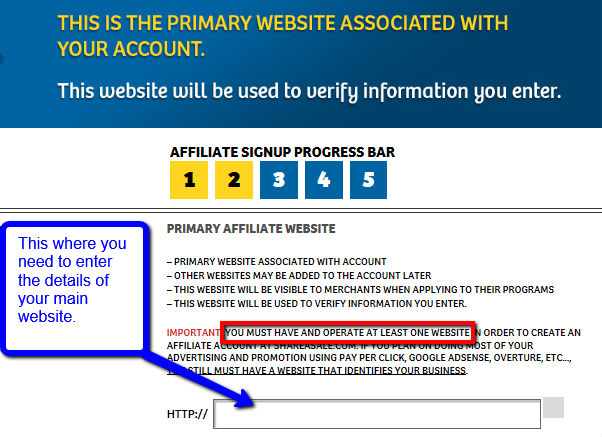 You can see that you need to have at least one website ready to go for your first Shareasale promotion.
If you get this far and have not got a website yet, please read this review through and then look at Wealthy Affiliate to get the basic training you need.
A good way to get a start with a website and learn the skills of an affiliate marketer is to join Wealthy Affiliate. You can also get a grounding in all kinds of promotion, S.E.O. and marketing techniques. These are the tools of your trade.
They have a basic free program where you can pick up the skills needed to create and host a website based on WordPress.
WordPress is the easiest platform to use and is used by millions of website builders all over the world.
Later you can link several of your websites to this one in Shareasale. This is a better way to get multiple websites linked to your account.
You can add them later but then you have to go through the Shareasale application process each time.
The Good in Shareasale
---
Shareasale excellent training and support.
A wide range of merchants in Shareasale looking for affiliate marketers.
Shareasale is free to join.
There are no upsells in Shareasale.
There is such a wide choice of products in Shareasale in so many niches. You will always find something you find suitable to promote.
Once the payments are rolling there are no silly delays, Shareasale are prompt and reliable.
Shareasale has a wide range of really good reports and tracking systems. As your business grows, you will find this really helpful.
In Shareasale, you can also do ranking searches on the merchant products and see
what is trending up,

what is new,

what is stagnating.
This can help you choose your products for promotion.
The Bad in Shareasale
---
You need at least one website before you open an account with Shareasale.
Shareasale training does not cover website building or security or hosting.
There is a growing tendency to delete accounts, in Shareasale, with no prior warning.
There are minimum account balances before Shareasale payout. Currently $50. This could be a problem when you first start up if you are not very experienced in marketing. It can take a little while to get everything set up.
Shareasale does not pay out to PayPal. This is really strange and I feel it is likely to change soon. Most other companies of this type use PayPal.
Who is Shareasale for?
---
Someone who has at least one website up and running with hosting and security sorted out.

If you have some understanding of affiliate marketing and E.O., it would be helpful.

Experienced website owners who want to quickly get going promoting new products.

In my opinion, you will need the following before joining Shareasale:
A PayPal account ready for the day Shareasale starts using it.

At least one website with hosting and security.

Knowledge of how to update your website.

Knowledge of Search Engine Optimisation, (S.E.O.)

A bit of experience using a keyword analyser.

A good internet connection

At least 10 hours a week, in the beginning, to get things started in Shareasale.

Some experience of Social Media, Facebook, Twitter etc.
You can get all of this training at Wealthy Affiliate.
Who is Shareasale Not for?
---
An absolute beginner with no website or little internet experience might struggle with using Shareasale to its best advantage, so my advice is "be prepared."
Tools and Training in Shareasale
---
There is a large amount of information on the Shareasale website and a lot of training in the various categories, once you have signed up.
Shareasale have been around a long time and they have learnt to cover training in pretty much everything you need to know.
There is a lot of information and some F.A.Q.s on the main Shareasale website.
Most of the Shareasale processes are easy to follow and very logical, taking you through things one step at a time.
Shareasale Support
---
They have a really good support system. They need this because Shareasale has a reputation to keep up both with the merchants and with you, the affiliate marketers.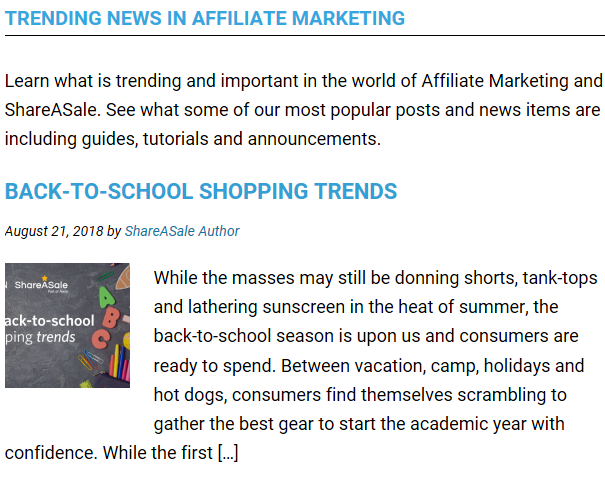 You can see a couple of examples of the Shareasale guides you can use to help select your products and a lively blog with useful articles.
Shareasale will keep you abreast of what is trending and any new changes in internet marketing developments.
Pricing and Upsells Shareasale
---
There are no upsells in Shareasale, although I personally would have a copy of a Keyword analytical tool for marketing purposes.
Balance Pros and Cons of Shareasale
---
For the right person, Shareasale is a fantastic way of expanding your business very quickly.
You can use the Shareasale merchants to quickly get promotions going and make some money.
Shareasale have covered the training and processes very professionally and are a reputable company with a long track record of success.
Shareasale does take a lot of the hard work out of building an affiliate business online. They do not teach you the crucial, all-important part of marketing products. Learn that from Wealthy affiliate before you embark on Shareasale and you will make a success of it.
There are a few danger traps for new beginners and I would strongly recommend that if you want to go into affiliate marketing, get yourself properly trained up before joining Shareasale.
Internet marketing is an enormous business with millions of products and millions of potential customers. The potential for an affiliate marketer to make good money is there.
There is also a lot of competition and you need to know what you are doing. The training platform I mentioned before has the best courses and support for you to make a success of affiliate marketing.
Shareasale Scam or no Scam
---
Shareasale is absolutely not a scam.
There is no promise of overnight riches in Shareasale.
There is no hidden secret product behind Shareasale, that you have to pay for, before you see it.
Everything, in Shareasale, is open and as it appears.
Product Name  : Shareasale
Official website: https://www.shareasale.com/
Price                 : Free  to Join as an affiliate
Owner               : Brian Littleton Founder and CEO in 2018
Ranking            :95/100
Verdict: Shareasale Recommended or Not?
---
Shareasale comes highly recommended by me and others on the net.
Shareasale has a few problems with their relationships with affiliates and I am certain that they will get it sorted soon. They are that sort of company who deal with problems professionally.
This review is my personal opinion based on some years of experience and a lot of really excellent training. I have made mistakes and I have learnt some expensive lessons. Those lessons have usually been due to believing the emotional hype that is used by unscrupulous people. Their attempts to draw people into buying their programmes often follows a recognisable pattern.
Shareasale is not that kind of company.
We welcome honest views of all kinds, so please do leave comments especially regarding Shareasale or Wealthy Affiliate.
If you are interested in a genuine free trial of an excellent training platform, click the here. No obligation.