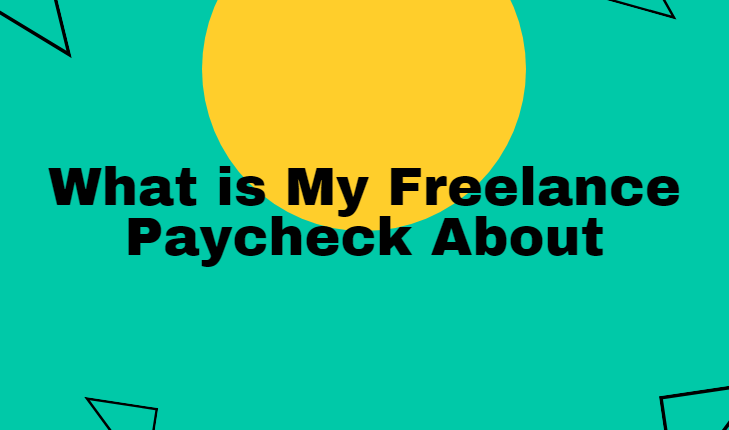 What is My Freelance Paycheck About
---
My Freelance Paycheck is about building a freelance business in the publishing world. Secrets to making freelancing work, step by step, your personal paycheck.
Laura Pennington, the author of My Freelance Paycheck, is a rare person that walks the walk. She is a successful freelancer, so she is speaking from experience and showing you the way to follow in her shoes and build your own freelancing business.
Product Name: My Freelance Paycheck
Website          : https://myfreelancepaycheck.com/
Price               : $47
Owner            : Laura Pennington
Ranking         : 60/100
My Freelance Paycheck Overview
---
First of all, let's just check out the word "freelance." Freelance means you are self-employed and work for different companies or people.
This is a dream for some people because you can, in theory, work whenever you like and for whoever you like.
Writing for other people is a dream job for some people and if you can build up the expertise over a period of time, it is certainly a way to make money. There is quite a demand in some areas, for example writing good content for web-designers and online business people.
Good content on a website attracts people to read and order products or services.
The opening video does make some rather strong claims:
$1000 per month may well be attainable, but will take time.
Laura claims that "My Freelance Paycheck" is honest and legal.
"It is as simple as just typing words into your computer." This is where I get a little dubious because I have been writing content for websites for years and it is NOT simple. It takes time to build up
Speed

Fluency

Relevance and

A chatty style.
(I know; I am still working on my skills.)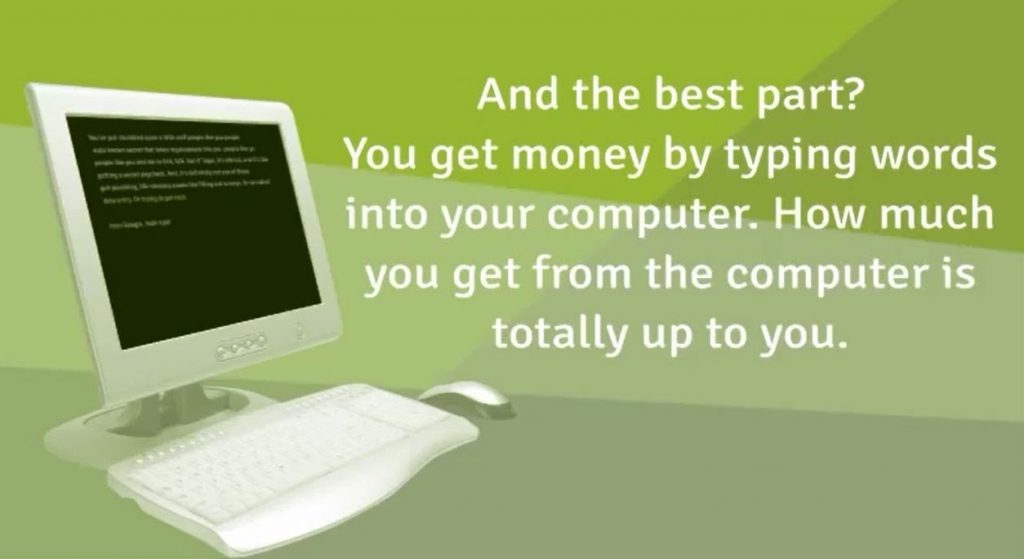 Then the video brings in some emotionally charged "testimonials" by telling stories about people down on their luck and suffering from bullying bosses.
This is a pity because there is some substance in this product and this video turns it into another emotionally manipulative sales attempt to get you to part with your money.
Just look at this enticing, delightful heap of cash and the promise of revealing the "secret."
Is there really a "secret?" Read on to find out and see what the "secret" is.
Next is a more solid claim:

You can work a few hours at the weekend and earn $250. Assuming a few is 4 hours that is over $50 an hour. My warning buzzers are going off here.
If the "testimonials" were not bad enough, now follows a gut wrenching story of Laura's own background and how she discovered the "secret" to making some real money on the side.
What is My Freelance Paycheck About?
---
My Freelance Paycheck consists of a series of videos and PDFs which cover all the basic information you need to understand how to produce good content and how to market it.
A lot of this information is free when you search on the net. The advantage here is that My Freelance Paycheck's Laura Pennington has gathered all this information together and presented it in a logical and easy-to-learn form.
If you are able to write good English and enjoy doing so, you could build a business around the structure Laura teaches.
It is an excellent "how to" program.
I won't list all the separate parts of the training because if you are serious about becoming a Freelance Writer, I suggest you pay the $47 and see for yourself. You can always claim your money back on the 60-day guarantee.
Remember My Freelance Paycheck is not a get-rich-quick scheme. There is a quite a lot of marketing to do and you will have to do that yourself. There are plenty of guides and suggestions in the training to help you get started.
You will need to find appropriate customers for your own skills and desires. People are very different about what they enjoy and you will work better writing the kind of things that you like writing about.
What does My Freelance Paycheck do?
---
My Freelance Paycheck puts all the information and guidelines into one place for a Freelance Writer to get started.
There are many aspects to running a business and it is just as challenging to do it online.
Being a freelancer means being a self-employed person and your attitude to work and self-discipline will play a large role in your success.
Getting yourself organised and how to approach people is covered well in the training.
You do not a degree in English but you do need to write a good language. You may find jobs where you do not need complex grammar etc. They might need speed and accuracy.
You get these pointers and guidance in My Freelance Paycheck.
This program teaches you how to get started and where to go for your first jobs.
They teach you how to price up and follow up client's requests.
The Good in My Freelance Paycheck
---
Anyone, who can write reasonably well, can have a go.
You can start in a few hours a week and build the business up over time.
It is cheap to join the program
Laura, or whoever wrote My Freelance Paycheck, obviously writes professionally and has some serious background in the business. You are learning from an expert.
My Freelance Paycheck is a Click Bank product and so has a 60-day money back guarantee.
All the information you need and some good marketing ideas are gathered together in one place and presented in an easy to learn style.
There is a demand for good writers.
Again, I feel this is an exaggeration. You should see some of the emails I receive. I would qualify this to: "If you can write a clear, good email…"
The Bad in My Freelance Paycheck
---
Be careful when you sign up for My Freelance Paycheck, there is an easy to agree to box for an upsell which commits you to a further monthly payment. You do not need this to get started and try the program out.
You can always come back to it if you find the program helpful and start making money.
Giving the impression that you can make a lot of money quickly is, quite honestly, false. It takes time to establish relationships with customers and they will often want you to complete one job before they give you more.
You can get all this information free on the internet.
"HireWriters and Fivver are two starting points where you can offer your services, for example.
Who is My Freelance Paycheck For?
---
If you enjoy writing and would like to make some money, have a go. Good content, (quality articles, reviews, etc.) are in great demand.
English is the main language, but there are demands for other languages as well.
An experienced writer wishing to expand their experience and customer base.
Laura claims that this suits beginners more than experienced people because a beginner to My Freelance Paycheck will follow the instructions and become successful quicker.
Who is My Freelance Paycheck Not For?
---
Someone who needs money quickly.
Someone hoping to learn English.
Tools and Training in My Freelance Paycheck
---
There are both videos and PDFs and an email support system in My Freelance Paycheck.
The training videos are concise and usefully broken down into sections which mean you can pick out the ones you feel you need without trawling through 1 long video to find the bits you need.
The PDFs in My Freelance Paycheck are detailed and well written, (as you would expect.)
My Freelance Paycheck, Pricing, and Upsells
---
Be careful of the upsells. I did not buy them so I cannot say that they are good or bad but, in my opinion, it is better to take the initial training and see if you feel comfortable first. You can always go back to the long-term commitment of monthly membership when your business is working and you are enjoying it.
Balance Pros and Cons to My Freelance Paycheck
---
Pros:
My Freelance Paycheck is a genuine business

It is a business with a demand

The start-up price is quite low.

There is enough information and training to get you started on the right path.

My Freelance Paycheck is produced by a professional writer who knows what they are talking about.
Cons:
It will take some time to build the business up

You do need to enjoy writing.

You need to be able to write good quality content to get repeat business.

You can get all this information, and more, on the internet for free.

Be careful of the second tick box.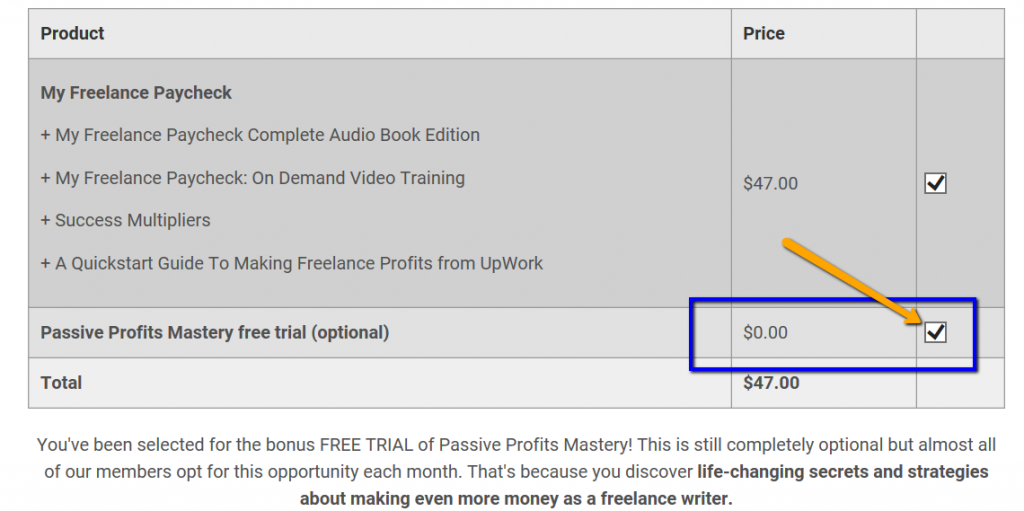 This is the first month free of a subscription service which costs $37 per month if you do not cancel in the first month. Because it is a subscription upsell, I do not think you will get a refund under the 60-day guarantee.
My Freelance Paycheck  Scam or no Scam
---
This business is not a scam.
My Freelance Paycheck Verdict: Recommended or Not?
---
I recommend My Freelance Paycheck as a way of getting into freelance writing, to see if it is a business for you.
You can find a lot of information free on the net but My Freelance Paycheck brings a lot of it all together to save you some time and energy.
Product Name: My Freelance Paycheck
Website           : https://myfreelancepaycheck.com/
Price                : $47
Owner             : Laura Pennington
Ranking          : 60/100
If you are interested in a broader more thorough training in how to get a business going on the internet, there is the community I belong to. They have an amazing free trial that offers free training and website hosting so that you can quickly get going and see if you like it.
You can find out how to market other peoples' products through affiliate marketing, for example.